North Korea blames "gangster-like" US for stalled denuclearization talks, but Kim praises Trump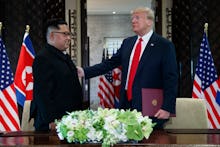 North Korean state media on Tuesday slammed the United States for the stalled denuclearization talks, claiming that Washington is "totally to blame" for the diplomatic impasse.
Describing the U.S. negotiating position as "gangster-like," state-run KCNA said dialogue had deadlocked because America is insisting that North Korea conduct a complete, verifiable and irreversible dismantlement of its nuclear program before addressing other issues — a demand Pyongyang has long opposed.
"The future of the [Democratic People's Republic of Korea]-U.S. dialogue totally depends on the stand and action of the U.S.," according to state media. "The U.S. should think twice and have an honest and diligent attitude toward the DPRK-U.S. dialogue with sincerity and bold decision."
The criticism from Pyongyang comes as North Korean leader Kim Jong Un and South Korean President Moon Jae-in held another round of talks in Pyongyang — and about three months after a meeting between Kim and President Donald Trump, which the North Korean strongman said Tuesday had "stabilized" the peninsula.
Trump and Kim spent much of 2017 trading petty insults and grave nuclear threats, but met in Singapore in June after a strong diplomatic push by Moon at the onset of 2018. While the meeting was unquestionably historic, the denuclearization agreement Trump brokered with Kim was criticized as vague. Trump was widely panned for legitimizing the North Korean dictator on the world stage.
Trump touted the summit as a success, even going as far as to claim in June that "there is no longer a Nuclear Threat from North Korea." But even he has acknowledged in recent weeks that it's not clear much progress has made toward denuclearization, and the two sides have been stuck at an impasse.
The criticism from Pyongyang on Tuesday highlights how at-odds the two sides remain. The U.S. has long wanted North Korea to completely denuclearize, but Pyongyang on Tuesday indicated that it views such a demand as a mafia tactic.
The criticism also reflects the two-pronged approach North Korea has appeared to take in its dealings with the Trump administration: casting the U.S. as an unreasonable negotiating partner, while simultaneously buttering up the praise-hungry president, who has touted his "great relationship" with the dictator.
Tuesday's summit in Pyongyang marks the third meeting between Kim and Moon. A second summit between Kim and Trump is currently in the planning stages, the White House announced Sept. 10.