Trump: "We will delay" Kavanaugh Supreme Court confirmation amid sex abuse allegations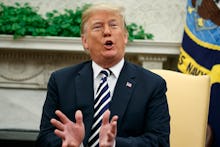 President Donald Trump suggested Tuesday it is likely that Brett Kavanaugh's Supreme Court confirmation will be delayed while the Senate hears "both sides" on the nominee's sexual assault allegations.
Trump did also praise Kavanaugh as an "outstanding person" with an "unblemished" record and accused Democrats of using the allegations to "obstruct" his confirmation.
"It's a terrible thing that took place," Trump told reporters Tuesday in the White House. "And it's frankly a terrible thing that this information wasn't given to us a long time ago, months ago, when [the Democrats] got it, instead of waiting till everything was finished, and then all of a sudden spring it."
He added that "a delay is certainly acceptable."
"We want to get to the bottom of everything," Trump said, adding that he is confident Kavanaugh will ultimately be confirmed.
Trump's comments came as his second Supreme Court pick faces accusations of sexual assault dating back to the early 1980s when he was a teenager at a Maryland Jesuit prep school. According to Christine Blasey Ford, a Palo Alto University psychology professor, Kavanaugh forced himself on her while he was intoxicated at a party when they were both in high school and stifled her attempts to scream for help.
Ford described the accusations against Kavanaugh in a letter to Sen. Dianne Feinstein (D-Calif.), the top Democrat on the Senate Judiciary Committee, and went public with the allegations to the Washington Post, which was published Sunday, after the New Yorker reported on the letter Friday.
The accusations, which Kavanaugh has denied, have thrown a wrench into his confirmation. The events recall the sexual harassment allegations law professor Anita Hill leveled at Supreme Court Justice Clarence Thomas during his own confirmation process in 1991.
Trump has defended Kavanaugh in recent days and accused the Democrats of playing politics, but has been relatively measured so far in his remarks on the matter — a reflection, perhaps, of the precarious political position his nominee is in.
Just two GOP defections could doom Kavanaugh's confirmation, and at least three Republican senators — Jeff Flake of Arizona, Bob Corker of Tennessee and Lisa Murkowski of Alaska — have expressed concern about the allegations and called for the confirmation vote to be delayed.
Trump on Monday had already suggested such a delay would be possible, but on Tuesday, he appeared to concede that the confirmation would, in fact, be delayed.
"We have time available," Trump said, adding that Kavanaugh is "anxious" to testify on the matter. "We will delay the process until it's finished out."
However, Trump also indicated he "totally" supports Kavanaugh and believes him over Ford. He also suggested he continues to believe his nominee will ultimately be confirmed to replace retired Justice Anthony Kennedy on the bench.
"I would say few people that I've ever seen or that I've ever known — and I've known people of great success — have been so outstanding as Judge Kavanaugh," Trump told reporters as he met with Polish President Andrzej Duda on Tuesday in the Oval Office.
Trump singled out Feinstein, who learned of the allegations in a letter from Ford, for not raising the accusations "a lot sooner," and accused Democrats as a whole of "obstruction."
"That's what the Democrats do," he said.
Kavanaugh and Ford may appear before the Senate Judiciary Committee next week to testify about the alleged assault, but Sen. Chuck Grassley (R-Iowa), the panel's chairman, claimed Tuesday that Ford has not yet responded to the committee's request to appear.
Meanwhile, Feinstein and other top Democrats are calling for a more expansive probe by the FBI into the allegations, suggesting that failing to do so could result in the same mistakes lawmakers made in the early 1990s with Hill and Thomas.
"Holding a hearing without any investigation signals no interest in getting to the bottom of this," Feinstein said Tuesday in a statement on Twitter.
Trump on Tuesday said he did not believe there was a need for the FBI to get involved. He also defended his controversial decision Monday to declassify documents related to the FBI's Russia investigation, which critics have suggested is an abuse of power that could damage U.S. intelligence.
"I want total transparency," Trump said, again calling the probe a "witch hunt."