New York City cab drivers face depression and debt amid increased competition from Uber and Lyft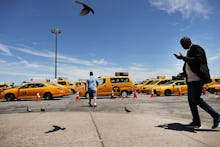 Nic Hunt has been driving a taxicab in New York City for more than 30 years. Hunt's best friend, Nicanor Ochisor, died by suicide in March. Friends and family members of Ochisor, who was also a cab driver, believes his suicide was the result of financial pressure due to increased competition for passengers with ride-hailing apps like Uber and Lyft.
"I still have texts in my phone when he text[ed] me. 'Half an hour I couldn't pick up a passenger' or '40 minutes, I couldn't find a passenger,'" Hunt said on Mic Dispatch.
Six taxicab drivers in NYC have died by suicide since November, sparking protests and rallies aimed at protecting drivers' wages. Lyft's revenue soared to $1 billion in the fourth quarter of 2017; in the second quarter of 2018, according to a Bloomberg report, Uber generated $2.8 billion in sales. 2017 also marked the first year Uber outpaced yellow taxis: Uber provided more than 400,000 trips per day in NYC that year, compared to around 300,000 per day for yellow taxis.
Meanwhile, NYC's taxicab revenue dropped 9% in 2016, and operating your own cab by purchasing a coveted taxi medallion also means drowning in debt for many drivers. NYC taxi medallions, often passed from generation to generation, were once considered safe investments — in 2014, a medallion was worth as much as $1.3 million. Today, many of those medallions are worth much less than what drivers borrowed to buy them, something many attribute to the rise of Uber and Lyft.
According to retail website nycitycab.com, a medallion now retails for as low as $100,000. The cheapest medallion currently on the site is being sold as part of a foreclosure sale, a growing trend among taxi drivers around the country right now. In Chicago, 774 taxi medallions had been surrendered to the city as of May 22, 2017, with drivers unable to afford taxes and license fees associated with ownership. Many of those end up moving to foreclosure.
"You sleep like two, three hours, then you wake up and you turn around in bed," Hunt said. "It's a difficult time, mortgage for the medallion, mortgage for the house. One time I didn't feel good and I told my wife, 'I'm going to the hospital, I won't come home.' I had an anxiety attack in my physician doctor's office. So then I find out I suffer [from] depression."
But there's hope for some cab drivers, at least, in NYC. According to the New York City Taxi and Limousine Commission's rulebook, one of its duties is to establish and enforce standards to ensure all taxi driver licensees remain "financially stable." In August, NYC became the first major metro area to aid drivers affected by the rise of ride-hailing apps: The New York City Council passed legislation to "cap the number of for-hire vehicles for a year." and to establish minimum pay rates for taxi drivers, the New York Times reported.
"More than 100,000 workers and their families will see an immediate benefit from this legislation," Mayor Bill de Blasio said on Twitter. "And this action will stop the influx of cars contributing to the congestion grinding our streets to a halt."
Not everyone agrees with de Blasio. Thirty-nine council members voted in support of the cap on licenses, but Councilman Eric Ulrich was one of six who opposed it.
"I believe in capitalism," Ulrich said on Mic Dispatch. "Standing in the way of Uber, as I said on the floor with [the] City Council, would be like standing in the way of Netflix because we wanted to save Blockbusters from closing."
Uber communications manager Alix Anfang said the regulation will threaten "one of the few reliable" transportation options in the city.
"As Uber continues to grow in communities outside of Manhattan, we will do whatever it takes to ensure that no New Yorker who needs a ride is left stranded," Anfang said in an email.
Uber drivers serve more boroughs than yellow cabs do, with 22% of Uber rides starting outside of Manhattan compared to just 14% of all yellow and green cabs (also known as Boro Taxis, a fleet of cabs deployed specifically for travel outside of Manhattan).
Joseph Okpaku, Lyft's vice president of public policy, reiterated the importance of its service for outer-borough travel in an emailed statement.
"These sweeping cuts to transportation will bring New Yorkers back to an era of struggling to get a ride, particularly for communities of color and in the outer boroughs," Okpaku said. "We will never stop working to ensure New Yorkers have access to reliable and affordable transportation in every borough."
And while regulations on Uber and Lyft could be good news for taxi drivers, it's only a temporary solution — and only one of the issues affecting drivers who struggle to compete against corporate behemoths like Uber.
"They stopped the bleeding now — no more bleeding for one year," Hunt said. "But the fight is just beginning."
Check out episode 20 of Mic Dispatch above — only on Facebook Watch.
To catch future episodes of Mic Dispatch, follow Mic Dispatch on Facebook Watch. For more stories about the show, visit the Mic Dispatch collections page.