With Apple iOS 12, iPhones show augmented reality in your web browser. Here's where you can try it.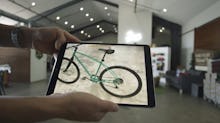 For the past year, Apple has let creators add augmented reality features into their applications. Using your camera, your iPhone's screen will show the real world with digital objects placed on top of it. Some of AR's best uses have come from stores like Ikea, which uses an app to let you see if a couch will fit in your living room. Now, in iOS 12, iPhone users can use AR in their web browsers without needing to download an app first.
Here's where you can try AR for yourself.
Apple's website offers 11 AR objects you can view
If you want to see for yourself, head over to Apple's AR gallery site. Fire up Safari on an iPhone or iPad running iOS 12 and tap on one of the various objects. You'll be able to place a guitar, television, gramophone or other items in front of you virtually. After tapping on your item, make sure the slider is set to "AR" and not "Object." This will engage the camera and start AR. You can pinch the virtual item to increase or decrease its size; when the tooltip says "100%," you'll know the object is being shown at its actual size.
PureCycles lets you give AR a test ride with virtual bikes
Aside from Apple, many developers are working on adding support for ARKit, the development tool that let app creators add in AR support. Shopify announced Monday it added support for AR Quick Look, enabling its 600,000 merchants to offer augmented reality experiences within Safari. One Shopify site, PureCycles, has already implemented the feature.
You can try it by browsing PureCycles' range of bikes here. To put a bicycle in front of you in the virtual world, tap on a bike and then the 3D-cube icon in the top right.
AR inside a web browser is easier, but the apps are cool, too
Website-level AR will prove useful during online shopping, but AR could also be used for much more. Built into iOS 12 is Apple's Measure app, which gives the iPhone the ability to measure length and width. At its September keynote, Apple showed us the app Homecourt, which is actually basketball software that lets you chart a player's shot release time, release angle, shot type, leg angle and more during a pickup game.
Other apps, like Google's Just a Line doodling app (available on iOS and Android), are simply for drawing things with friends.
The range of what's possible via AR is still being decided. Mock-ups show how the technique can be used for navigation, business cards or even watching more immersive cartoons. For now, expect to see more sites putting virtual objects into the real world.