Mic Daily: Kavanaugh's confirmation hits a major snag — and other news of the day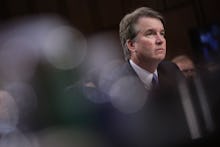 Welcome to Mic Daily: Mic's newsletter that cuts through the noise and lands in your inbox every weekday. We carefully curate each edition to send you a cross section of our most vital stories of the day.
Want more entertainment news in your inbox? Sign up for Hype Daily — Mic's morning entertainment briefing. It's got all the news you need to start your day.
President Donald Trump suggested Tuesday it is likely that Brett Kavanaugh's Supreme Court confirmation will be delayed while the Senate hears "both sides" on the nominee's sexual assault allegations.
Trump did also praise Kavanaugh as an "outstanding person" with an "unblemished" record and accused Democrats of using the allegations to "obstruct" his confirmation.
Responding to rampant alleged sexual misconduct and emboldened by the #MeToo movement taking root nationally, McDonald's workers across 10 U.S. cities abandoned their restaurants at lunchtime Tuesday to take part in what is being hailed as the first multi-state strike to specifically target sexual harassment.
Want to know what it would be like to live in a world where Roe v. Wade is no more? You don't have to look hard: Venture down to the southern tip of Texas in the Rio Grande Valley, where there's just a single abortion clinic that's usually swarmed with protesters.
Bert and Ernie, the beloved duo on Sesame Street, were a gay couple, former series writer Mark Saltzman told Queerty in an article published Sunday. But Sesame Workshop denied these claims Tuesday, tweeting that the iconic characters were actually "best friends."
Nobody tell Kermit and Miss Piggy.
From cocktails to coffee, cannabis-infused beverages are everywhere, and soon, you may find the drug in your local grocery stores and vending machines.
According to a report by BNN Bloomberg, Coca-Cola is in "serious talks" with Aurora Cannabis, a Canadian medical marijuana producer — to create a soda infused with marijuana.