Hype Daily: Julie Chen signs off from 'The Talk' and more entertainment news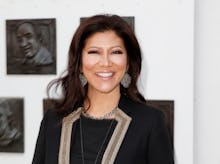 Welcome to Hype Daily, Mic's morning entertainment roundup. Here's everything you need to catch up on in the entertainment world and what to look forward to today. Want to receive this as a daily email in your inbox? Subscribe here.
Good morning readers and welcome to Wednesday. Let's get right into the entertainment news of the day, shall we?
Julie Chen announces she's leaving The Talk
Host Julie Chen announced she's leaving the CBS talk show The Talk in an emotional video that aired on Tuesday's episode, the Hollywood Reporter reported Tuesday. The news of her departure from the show comes after Chen's husband, Les Moonves, left his role as CEO of CBS amid allegations of sexual harassment and assault made against him.
In her message on Tuesday, Chen said, "I need to spend more time at home with my husband and our young son, so I've decided to leave The Talk. ... I'll always cherish the memories we shared. ... I love you all, and I know this show and the sisterhood it stands for will live on for many, many, many more years to come." She did not specifically mention the allegations against her husband.
Netflix is making a live-action version of Avatar: The Last Airbender
Streaming giant Netflix announced Tuesday it's making a live-action updated version of the animated series Avatar: The Last Airbender, the beloved Nickelodeon cartoon series from the early aughts. (I never watched it, but it seems fun!) The animated show followed Aang, a hero with the ability to manipulate all of the elements.
And the original series creators, Michael DiMartino and Bryan Konietzko, will be involved in the Netflix adaptation, Vulture reported Tuesday. In a statement, the creators said, "We're thrilled for the opportunity to helm this live-action adaptation of Avatar: The Last Airbender."
They added, "We can't wait to realize Aang's world as cinematically as we always imagined it to be, and with a culturally appropriate, non-whitewashed cast." That last bit's a dig at the 2010 M. Night Shyamalan live-action film adaptation of the cartoon, which cast white actors to play characters who didn't seem white in the series.
Monday night's Emmys were the least watched in recent years
The 70th annual Emmy Awards, which aired Monday night on NBC, were the least watched Emmys on record, Entertainment Weekly reported Tuesday. Only 10.2 million people watched the show, down from 11.4 million last year — which was also not stellar. As CNN Money reported back in 2017, Emmy viewership has been on the decline since 2013, when the awards show hit a high point with 17.7 million viewers.
The New York Times mixed up Angela Bassett and Omarosa
Speaking of the Emmy Awards, the good folks at the New York Times mistakenly printed a caption in their Emmys coverage that identifed Angela Bassett as former Apprentice contestant turned White House adviser turned tell-all author Omarosa Manigault. While plenty of people on Twitter Tuesday were up in arms about the mistake (it's pretty bad, after all), Bassett tried to brush it off, tweeting, "Hey Everybody, no worries! xoAng."
The Times issued a sort-of apology, saying in a statement Tuesday, "We regret running an incorrect caption from a photo wire service in some early print editions. We will issue a correction in tomorrow's paper."
Put this on your radar: Quincy
Quincy, Rashida Jones' new Netflix documentary about her father, legendary music producer Quincy Jones, drops on the streaming service this Friday. Jones codirected the doc with Alan Hicks, and it follows Quincy Jones from his beginnings in Chicago's South Side to his work with legendary musicians like Ray Charles and Michael Jackson.
And, if it's anything like the amazing interviews Quincy Jones has given in the past (he's got a lot of wild stories about celebrities), this doc will be worth a watch.