Today in Trump's America: Ford says she's faced death threats over Kavanaugh allegations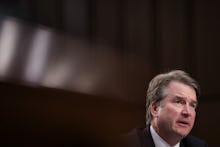 Welcome to Mic's daily read on Donald Trump's America. Want to receive this as a daily email in your inbox? Subscribe here.
Good morning from Eric Lutz at Mic. I'll be filling in for Emily C. Singer today.
Here's what's happening in Trump's America:
• President Donald Trump's day gets off to an earlier start than usual this morning. Around 9 a.m., he'll be leaving the White House for Marine Corps Air Station Cherry Point in Havelock, North Carolina, where he'll be checking in on the Hurricane Florence recovery effort. He's set to arrive there at 10:20 a.m.
• The president is set to arrive back at the White House by 6:25 p.m.
About last night: Ford calls for FBI probe before testifying on alleged Kavanaugh sexual misconduct
Christine Blasey Ford, the psychology professor who has accused Supreme Court nominee Brett Kavanaugh of sexual abuse, is indicating that she won't testify before the Senate Judiciary Committee unless the FBI investigates her allegations.
In a letter to Sen. Chuck Grassley (R-Iowa), the committee chairman, Ford's legal team described how her life had been "turned upside down" since going public with her story over the weekend. She has "been the target of vicious harassment and even death threats," according to her lawyers, and her family was "forced to relocate out of their home" as a result.
Nevertheless, Ford's attorneys wrote, the Palo Alto University professor is willing to testify about her allegations. However, her lawyers argued, an FBI probe into the matter would be "the first step" to ensure that senators on the committee — some of whom "appear to have made up their minds that she is 'mistaken' and 'mixed up'" — are fully informed before conducting a hearing.
The call for an investigation suggests that the planned hearing Monday may not happen. Kavanaugh's confirmation hearing was formally postponed on Tuesday.
Ford detailed her allegations against Trump's second Supreme Court pick in a letter to Sen. Dianne Feinstein (D-Calif.), the ranking Democrat on the committee, and only went public with her story after the contents of the letter were reported on by the New Yorker last Friday.
The accusations have thrown Kavanaugh's confirmation into doubt, with at least three Republican Senators expressing concern about the allegations.
Trump said Tuesday that a delay is "acceptable," but has also repeatedly defended Kavanaugh's character as "outstanding" and accused Democrats of "obstruction."
Today in Trump's America: Trump visits North Carolina after Florence
Trump on Wednesday will head to North Carolina to check in on the government's response to Hurricane Florence, which is known to have claimed at least 37 people in the Carolinas and Virginia and left nearly 350,000 without power, according to reports.
Trump has repeatedly touted his administration's response to the storm as a success, including in a bizarre video released late Tuesday in which he described Florence as a "tough hurricane, one of the wettest we've ever seen from the standpoint of water."
His visit will be closely watched, as he's continued to face significant criticism over his handling of last year's hurricane in Puerto Rico, which left nearly 3,000 Americans dead.
Trump ignited a firestorm last week when he publicly challenged that number, tweeting that Democrats artificially inflated the death toll to "make me look as bad as possible."
And the rest…
Another 1,500 migrant children unaccounted for: Senate investigators have found the Trump administration has lost track of another group of nearly 1,500 immigrant children, according to theNew York Times. Officials told lawmakers inApril that the Department of Health and Human Services was unable to account for about 1,475 unaccompanied minors.
Trump brags about North Korea: Trump in a series of tweets on Wednesday cheered the "very exciting" developments in North Korea — despite what even he's admitted is a lack of adequate progress on the peninsula toward denuclearization. The tweets came as North Korean leader Kim Jong Un met a third time with South Korean President Moon Jae In, and as Pyongyang blamed Washington for stalled talks between the U.S. and the North.