Trump attacks Sessions again: "I'm very disappointed in Jeff"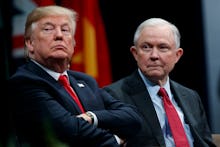 President Donald Trump has gone after Attorney General Jeff Sessions yet again, saying in a new interview Wednesday that the embattled attorney general's decision early last year to recuse himself was "very unfair."
"I don't have an attorney general," Trump told the Hill. "It's very sad.
"We'll see how it goes with Jeff. I'm very disappointed in Jeff. Very disappointed."
It was perhaps Trump's harshest criticism yet of his attorney general, whom he has relentlessly attacked for more than a year. It came amid heightened speculation that Sessions' days in the administration could be numbered.
Trump said in July 2017 that he wouldn't have hired Sessions if he'd have known he was going to recuse himself from matters related to the Russia investigation, and has continued to blast him seemingly for failing to protect him from the FBI probe since. Trump has also antagonized Sessions, one of his earliest supporters, for being "weak" on investigating his political opponents, including his 2016 rival Hillary Clinton.
Sessions, who had mostly stayed quiet on Trump's frequent broadsides, eventually responded to the attacks from his boss in late August.
"While I am attorney general, the actions of the Department of Justice will not be improperly influenced by political considerations," he said in a statement.
But Trump countered that Sessions "doesn't understand" what's going on in his own department, and in a stunning Twitter rant in early September, explicitly called on him to hold Republicans above the law following the indictments of Reps. Chris Collins (R-N.Y.) and Duncan Hunter (R-Calif.).
"Two easy wins now in doubt because there is not enough time," Trump tweeted Sept. 3, about two months out from the November midterms. "Good job Jeff."
The new round of attacks further suggests that Sessions will be fired at some point — perhaps after the midterms. Trump, however, was noncommittal when the Hill asked about Sessions' possible sacking.
"We'll see what happens," Trump said.