Nicki Minaj is part of Diesel's anti-cyberbullying campaign. Here's why some people are against it.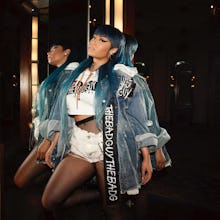 On Tuesday, Diesel announced its new anti-cyberbullying fall/winter campaign featuring rappers Nicki Minaj and Gucci Mane and actors Tommy Dorfman, Yoo Ah-in and Bella Thorne.
But some critics are pointing out that Minaj should not be included in this initiative because she has been accused of cyberbullying her critics on social media — most notably blogger Wanna Thompson and Jerome Trammel, a social media coordinator.
Diesel's "Hate Couture Collection" features T-shirts, jackets and sweatshirts bearing "real hate comments" directed at these celebrities, according to its promo video. "You don't make online hate disappear by hiding it," the brand tweeted Tuesday evening.
"We wanted to create this controversial irony with our clothes," Renzo Rosso, founder of Diesel told Business of Fashion.
In the photo spread for the collection, Minaj wears a shirt reading, "The bad guy."
"You need people like me. So you can point your finger & say: THAT'S THE BAD GUY?? Got a surprise for anyone who's ever been labeled #TheBadGuy," Minaj wrote in a Monday Instagram post, promoting the new line and referencing her recent single "Chun-Li."
Upon reading the news of the campaign, Thompson shared her thoughts about it via Twitter on Wednesday.
"You know how tone deaf you have to be as a brand to enlist Nicki Minaj to front a campaign to bring cyberbullying to light?" she wrote. "Who was behind this? Do they live under a rock?"
On June 29, Thompson tweeted a critique about Minaj's music. "You know how dope it would be if Nicki put out mature content? No silly shit. Just reflecting on past relationships, being a boss, hardships, etc. She's touching 40 soon, a new direction is needed."
Minaj then sent Thompson the direct message below:
"When ya ugly ass was 24 u were pushing 30? I'm 34. I'm touching 40 ? lol. And what does that have to do with my music? Eat a dick u hating ass hoe."
After Thompson shared a screenshot of the message, a mob of Minaj's fans — known as "the barbz" — doxxed her personal information and sent her threats. The rapper denied harassing Thompson in an interview with Hot 97's Funkmaster Flex in August.
Similarly, Trammel also accused Minaj and her fans of cyberbullying and says his personal information was doxxed. "They pulled up my old [work address] and they were saying they were going to come to my job and kill me," Trammel said in a phone interview in July.
On Wednesday, other critics recalled these incidents as reasons why Minaj should not be one of the faces of this new Diesel campaign.
"She is responsible for someone's child getting death threats from her rabid stans and has never addressed it so miss me," one critic wrote on Twitter. "You guys really missed the mark Diesel."
Another critic wrote on Twitter, "Nicki Minaj as an anti-bullying beacon??? Bringing issues to light HOW?? By showing ppl what NOT to do? Lmao this a whole joke."
Diesel tweeted in response, "We're here to support anyone who's getting hated on, and Nicki is one of them."