Republicans suggest they'll hold Kavanaugh vote if accuser doesn't testify on sex abuse allegation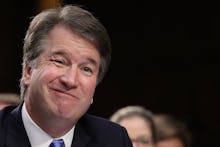 Testify on Monday, or else — that's essentially the message key Republicans are sending Christine Blasey Ford, the psychology professor who says Supreme Court nominee Brett Kavanaugh sexually assaulted her when they were teenagers in the early 1980s.
Ford on Tuesday suggested in a letter from her legal team that she would be unwilling to testify before the Senate Judiciary Committee until the FBI investigated the matter to ensure committee members are fully informed about the allegations. But top Republicans, including some who have expressed concern about Kavanaugh in light of the allegations, are indicating that they plan to vote on President Donald Trump's second nominee to the nation's high court if Ford doesn't appear before the panel on Monday.
"Requiring an FBI investigation of a 36-year-old allegation (without specific references to time or location) before Professor Ford will appear before the Judiciary Committee is not about finding the truth, but delaying the process till after the midterm elections," Sen. Lindsey Graham (R-S.C.) said in a statement Wednesday. "It is imperative the Judiciary committee move forward on the Kavanaugh nomination and a committee vote be taken ASAP."
Ford told the Washington Post on Sunday that an intoxicated Kavanaugh sexually assaulted her during a party when they were in high school and put his hand over her mouth when she attempted to call for help. She went public with her story only after the New Yorker reported on a letter she sent to Sen. Dianne Feinstein (D-Calif.), the ranking Democrat on the Senate Judiciary Committee, detailing the allegations.
The disturbing accusations threw a wrench into Kavanaugh's confirmation to replace Anthony Kennedy on the Supreme Court, which initially appeared to be a slam dunk for Republicans. Several members of the GOP, including Sens. Jeff Flake (R-Ariz.) and Bob Corker (R-Tenn.), are now suggesting that the allegations could sink his nomination.
However, late on Tuesday Flake and Corker indicated that they would hold a vote next week if Ford declines an invitation from Sen. Chuck Grassley (R-Iowa) to testify Monday.
"If we don't hear from both sides on Monday, let's vote," Corker tweeted Tuesday night.
In their letter to Grassley, the Judiciary Committee chairman, Ford's lawyers have said that she is willing to "cooperate" with the panel. But, they wrote, her life had been "turned upside down" since she went public with her allegations. She's faced death threats, according to her attorneys, and her family has been forced to move out of their home.
While she's willing to testify, the letter read, she is concerned that senators "appear to have made up their minds that she is 'mistaken' and 'mixed up.'"
Trump has repeatedly said that he is open to delaying the confirmation process, but has continued to praise Kavanaugh as an "outstanding" person and to accuse Democrats of playing politics with his nomination. On Wednesday morning, he told reporters that the "FBI really doesn't do that" when asked if he believes the bureau should open a probe into the Kavanaugh sexual assault allegations.
That claim is false. The FBI investigated the sexual harassment claims Anita Hill leveled against Justice Clarence Thomas during his confirmation process in 1991.
Trump did say, however, that it would be "very interesting" if Ford "shows up and makes a credible showing." The president also called the treatment of Kavanaugh "very unfair" and said that his nominee is "such an outstanding man, it's very hard for me to imagine anything happened."
Grassley said Wednesday that he is still seeking to get Ford to testify Monday either in "any format she's comfortable [with]," but tweeted that "no other OUTSIDE investigation is necessary."