Texas man trying to mainstream 3D-printed guns reportedly charged with sexual assault of a minor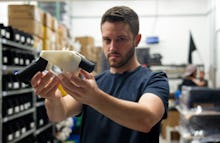 Cody Wilson, the founder of the controversial company that sued the United States government over its right to post blueprints for 3D printed guns online, has been accused of sexually assaulting a child, new court documents reveal.
On Thursday, ABC local affiliate KVUE reported that it had obtained an affidavit from a young victim, identified as a "juvenile female under the age of 17," who told forensic investigators that she had met the Austin-based Wilson through the website SugarDaddyMeet.com.
According to the affidavit, the two met in person at an Austin coffee shop on August 15, where security cameras captured Wilson arriving in a black SUV with a license plate registered his business, Defense Distributed. Surveillance footage later captured the pair checking into an Austin hotel, where the victim alleges Wilson sexually assaulted her and then later paid her $500.
In August, a federal judge issued a preliminary injunction on behalf of attorneys general in 19 states and the District of Columbia after they sued Defense Distributed over the release of blueprints for 3-D printed firearms.
Wilson and Defense Distributed have long pursued a legal claim for being able to widely disseminate the blueprints for untraceable, undetectable firearms made from cheap polymers by arguing that the digital files are a type of speech, and that prohibiting them from being uploaded them infringes upon the First Amendment.
In his August ruling, Judge Robert S. Lasnik of the U.S. District Court for the Western District of Washington said that the injunction was granted with the intention of mitigating risks to the public.
"[The lawyers who filed the suit] have a legitimate fear that adding undetectable and untraceable guns to the arsenal of weaponry already available will likely increase the threat of gun violence they and their people experience," Lasnik wrote, adding that making the bluebrints widely available would, "hamper law enforcement efforts to prevent and/or investigate crime."
In the wake of Lasnik's ruling, Wilson pledged to exploit a loophole in the preliminary injunction by mailing out the blueprints via secure USB drives rather than publishing them on the internet.
"I'm happy to do anything that the judge has permitted," Wilson said at the time. "The judge was very gracious to put that in black letter for me."
According to KVUE, Wilson is not yet in police custody as as result of the sexual assault charges.