Wall Street salaries are the highest they've been since the financial crisis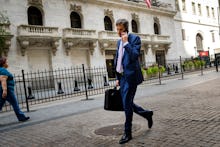 September marks the 10-year anniversary of the financial crisis, which laid bare predatory processes and routine gambles that the average American hadn't realized or didn't care to know. Aside from impacting countless lives around the world, the crisis ushered in an era when employees of Wall Street were vilified for their extravagant bonuses and seemingly bottomless greed, culminating in the Occupy Wall Street protests of 2011.
Even with all that new attention, Wall Street salaries are growing once again. In fact, a new report reveals that those in the financial industry are enjoying their largest compensation since the crash.
New York state's comptroller Thomas DiNapoli took a look at the profits and salaries of the securities industry in 2017 and so far in 2018. His team found that the average salary for employees on Wall Street was $422,500 in 2017, which is the highest average since 2008 and represents a higher salary than any other major industry in New York City. The massive figure also indicates a 13% boost over 2016. Bonuses increased by a double-digit percentage in 2017 too, with the average bonus clocking in at $184,220.
How does that stack up with other jobs in the city? The average salary in the securities industry was 5.5 times higher than the average in the rest of the private sector in New York City. The report includes a brief mention of the demographics on Wall Street: In 2016, the most recent year available, more than two-thirds of those in New York City's securities industry were men, and nearly two-thirds (62%) were white.
Those salaries are likely due to the fact that business is booming. The report also showed that in 2017, pretax profits grew by 42%. The amount of money generated from wealth management has more than tripled since 2009, which suggests that despite millennial anxieties, someone is using financial planners out there.
What exactly is the securities industry?
The report is on the "securities industry," a giant umbrella that covers many common roles or sectors under the financial umbrella and is basically a synonym to the concept of "Wall Street." A brokerage firm, investment bank, hedge fund and so on are under the securities industry, and the government body overseeing the stock market, the SEC, is the Securities and Exchange Commission.
"The momentum from last year's dramatic rise in profits has carried into 2018 and the industry is on track for another good year absent a setback later in the year," DiNapoli said in a statement. "Ten years after Lehman Brothers' collapse it is clear that Wall Street does not need to return to the days of excessive risk-taking to enjoy rising profits."