Andrew Gillum up 6 points in Florida governor race in latest poll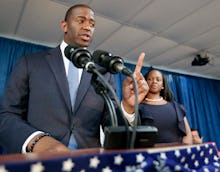 Florida Democratic gubernatorial candidate Andrew Gillum now leads his Republican rival by six points, a new poll has found, bolstering the hopes of Floridians who wish to see a progressive at the helm of their state for the first time in nearly two decades.
According to a poll by Reuters, Ipsos and the University of Virginia Center for Politics poll released Wednesday, 50% of respondents said they support Gillum in the race for governor, compared with 44% who back his Republican challenger, Ron DeSantis.
Although the poll puts Gillum ahead at a slightly wider margin than other polls, a RealClearPolitics average still finds him up by nearly four points.
Gillum, the mayor of Tallahassee, and DeSantis, who recently resigned from Congress to focus on this race, are vying to replace outgoing Republican Gov. Rick Scott, who is barred from running for re-election thanks to term limits and is now running for U.S. Senate.
Gillum's gubernatorial campaign, in which he has unapologetically advocated for "Medicare-for-All" and gun reform, is unusually progressive for Florida Democrats in the state tend to put forth more moderate midterm candidates to help appease the state's Republican voters.
Whether Gillum's "real deal" progressive bona fides will aid him in his attempt to stave off a last-minute sprint by the Trump-backed DeSantis still remains to be seen. But one thing is already certain: The race is getting ugly. Just one day after the rivals solidified their respective primary slots, DeSantis urged voters during a Fox News appearance not to "monkey this up" by voting for Gillum, a black man.
"Let's build off the success we've had under Gov. Scott," DeSantis said. "The last thing we need to do is to monkey this up by trying to embrace a socialist agenda."
The comment swiftly elicited outrage for its close resemblance to a racial epithet, especially when employed against the man who could potentially become Florida's first African-American governor.