Today in Trump's America: Kavanaugh accuser's lawyer says GOP not acting in "good faith"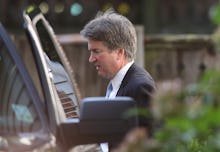 Welcome to Mic's daily read on Donald Trump's America. Want to receive this as a daily email in your inbox? Subscribe here.
Good morning from Emily Singer at Mic.
Here's what's happening in Trump's America:
• Trump's work day doesn't start until noon, when he'll receive his daily intelligence briefing.
About last night: Christine Blasey Ford's attorneys accuse Senate Republicans of being unfair
Senate Republicans have given Palo Alto University professor Christine Blasey Ford an ultimatum: She can testify Monday about her accusations against Supreme Court nominee Brett Kavanaugh or not testify at all.
Ford's attorneys responded to that demand, saying the plan to hold a hearing with just two witnesses — the accused and the accuser — without any investigation by authorities or calling outside witnesses who also knew about the alleged incident makes the potential hearing a farce.
"The committee's stated plan to move forward with a hearing that has only two witnesses is not a fair or good faith investigation," Lisa Banks, a lawyer for Ford, said in a statement to ABC News. "There are multiple witnesses whose names have appeared publicly and should be included in any proceeding. The rush to a hearing is unnecessary, and contrary to the committee discovering the truth."
Ford, who has received death threats since coming forward, has called for an FBI investigation into her accusations. Republicans have refused.
"It would be a disservice to Dr. Ford, Judge Kavanaugh, this committee and the American people to delay this hearing any further," Senate Judiciary Chairman Chuck Grassley (R-Iowa) said in a letter to Democrats on the committee.
No matter what happens, the incident has turned a nomination that Republicans once thought was a winning issue for their party in the midterms into a major quagmire.
Polls show a historic low percentage of Americans — just 31% — want Kavanaugh to be confirmed, according to a Reuters poll released Wednesday.
Today in Trump's America: The president is back on the campaign trail
Trump is back on the campaign trail, with 47 days to go until the midterm elections. Today he heads to Nevada to campaign for Republican Sen. Dean Heller.
The president's decision to campaign for Heller is notable. Thus far, he's campaigned for Republicans in states he carried in the 2016 election and where a Democrat is up for re-election.
But Trump lost Nevada in 2016. It's unclear how much his rallies will really impact the outcome in November, experts told me in August.
"There's limited evidence that campaign appearances by surrogates really matter all that much," Geoffrey Skelley, an associate editor and political analyst at Sabato's Crystal Ball, the University of Virginia Center for Politics' nonpartisan political handicapping newsletter, told me at the time.
But Skelley said if Trump did campaign for Republicans, it should be in places where he's popular. Nevada is not one of those places, according to a poll from Morning Consult, which found back in August that 46% of voters approve of the job Trump is doing.
And the rest...
Document declassification: Trump declassified text messages from now former FBI Director James Comey and other Justice Department officials, because sycophantic Fox News personalities like Sean Hannity, Lou Dobbs and Janine Pirro wanted him to.
"I have been asked by so many people that I respect, please — the great Lou Dobbs, the great Sean Hannity, the wonderful, great Jeanine Pirro," Trump told the Hill in an interview that aired Wednesday.
Politico reported that Democrats are worried the document declassification is similar to the Wikileaks dump of hacked emails from the Hillary Clinton campaign in the final weeks of the 2016 election. But this time, Trump is using the power of the presidency to selectively dump information to gin up excitement from the Republican base.