Hype Daily: Maroon 5 will reportedly play the Super Bowl and more entertainment news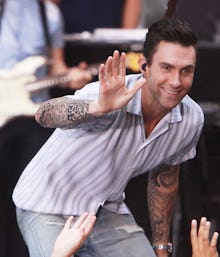 Welcome to Hype Daily, Mic's morning entertainment roundup. Here's everything you need to catch up on in the entertainment world and what to look forward to today. Want to receive this as a daily email in your inbox? Subscribe here.
Bonjour everyone, and happy Thursday. Let's take a little walk through the latest entertainment news together, OK?
Maroon 5 is rumored to be the choice to play the Super Bowl halftime show
Is it time to talk about the Super Bowl already? I guess so. Apparently, Maroon 5 is the choice to headline the 2019 Super Bowl halftime show. Sources confirmed the news to Variety, the outlet reported Wednesday, but the NFL hasn't officially announced anything yet — saying in a statement to Variety, "It's a Super Bowl tradition to speculate about the performers for the Pepsi Halftime Show. We are continuing to work with Pepsi on our plans but do not have any announcements to make on what will be another epic show."
The real question on everyone's mind is this: Are there other people in Maroon 5 besides Adam Levine? If so, who are they?
Chevy Chase thinks SNL sucks now
Emmy wins be dammed, Chevy Chase says Saturday Night Live is bad now. The actor and comedian, who was a member of the original SNL cast when the show began in 1975, gave an interview with the Washington Post this week in which he slammed the latest iteration of the sketch comedy show.
"First of all, between you and me and a lamppost, jeez, I don't want to put down Lorne [Michaels] or the cast, but I'll just say, maybe off the record, I'm amazed that Lorne has gone so low. I had to watch a little of it, and I just couldn't fucking believe it. ... That means a whole generation of shitheads laughs at the worst fucking humor in the world."
Chase also said a bunch more stuff in the interview, including about his reputation for being, well, mean. Read the whole revealing thing here.
Mark Cuban has to pay $10 million to women's organizations
In more sports-adjacent news, billionaire Mark Cuban, the owner of the NBA team the Dallas Mavericks, reached an agreement with the league to pay out $10 million to "women's leadership and domestic-violence organizations," the New York Times reported Wednesday. The news comes as a result of a long investigation into a culture of sexual harassment in the Mavericks office.
While Cuban himself wasn't accused of misconduct, the investigation reportedly found he tacitly tolerated a culture of harassment for years. The former team president and chief executive, Terdema Ussery, was found to have inappropriately touched and made comments to women in the office. And another exec watched porn at his work computer and made advances on coworkers, even after a "warning" from Cuban.
Robyn finally announced the release date for her next album
The long nightmare is over — Swedish pop star Robyn finally announced the title and release date for her new album. In a tweet Wednesday, she revealed her next album, Honey, will be released Oct. 26. Honey is Robyn's first album in eight years after 2010's Body Talk. That's right, for the past eight years Robyn has left us dancing on our own. Get it?
Put this on your radar: Black-ish is planning a Prince tribute
Definitely put this on your radar: The upcoming season of ABC's sitcom Black-ish will feature a special Prince tribute to celebrate the show's 100th episode, Entertainment Weekly reported Wednesday. The show is reportedly working with the late singer's estate to secure iconic Prince songs for the episode, which will air in November. Black-ish returns for season five on Oct. 16, at 9 p.m. Eastern.