Major donor of Trump-backed nominee for Florida governor just called Obama a racial slur on Twitter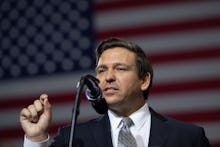 A new racial controversy is already swirling around Ron DeSantis' campaign, just weeks after the Republican nominee in Florida's competitive gubernatorial race told voters not to "monkey this up" by electing his black Democratic rival.
On Thursday, Politico reported that Steven M. Alembik, a Republican activist and donor who has contributed more than $20,000 to DeSantis' campaigns, recently referred to former President Barack Obama as a "FUCKING MUSLIM NIGGER" on Twitter. Alembik is white.
The comment came after the RNC tweeted, "Without a hint of irony, Obama smears President Trump's 63 million Republican voters as divisive & resentful." This prompted Alembik to quote the tweet and issue the barrage of accompanying slurs.
When confronted about the tweets, Alembik told Politico that he's "absolutely not" a racist, and said that the tweets were written in anger.
"So somebody like Chris Rock can get up onstage and use the word and there's no problem?" he asked the outlet. "But some white guy says it and he's a racist? Really?"
A spokesperson from the DeSantis campaign, Stephen Lawson, issued a swift disavowal of the comments in a written statement provided to Politico: "We've said it before, we'll say it again: We adamantly denounce this sort of disgusting rhetoric."
Alembik also has ties to President Donald Trump, whose eleventh hour endorsement of DeSantis helped the candidate edge out Florida Agriculture Commissioner Adam Putnam in the primary to secure the Republican nomination for governor. In an August 2017 on AJC.com, Alembik boasted that as groups rushed to cancel their events at Trump's Mar-a-Lago resort in the wake of the president's controversial comments after a rally planned by white nationalists in Charlottesville, Virginia, he was calling in to schedule an event.
"[The scheduler] thought I was calling to cancel something," Alembik said. "I said no, we're moving in. He was like, 'what?' He was tickled pink."
The controversy is just the latest in a galling series of racially charged missteps dogging DeSantis's campaign.
In August, the Miami New Times reported that DeSantis was an administrator of a Facebook page for Tea Party memes that frequently published racist, sexist and Islamophobic content. And in September, Politico reported that DeSantis called upon an Orlando-area GOP official to resign after she posted a racially charged Facebook meme falsely claiming that his Democratic rival, Andrew Gillum, wants black Americans to be "paid back" for slavery.
If elected, Gillum would become the first black governor of Florida. Requests for comment from both candidates' camps were not immediately returned.