Here's what we know about the allegations that could derail Kavanaugh's SCOTUS hopes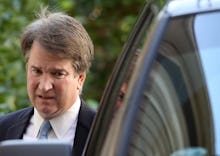 Senate Republicans are moving full speed ahead with Supreme Court nominee Brett Kavanaugh's confirmation, issuing an ultimatum to a woman who accused him of an attempted rape that occurred when the two were in high school: Testify on Monday, or don't testify at all.
"I'll listen to the lady, but we're going to bring this to a close," Sen. Lindsey Graham (R-S.C.), a member of the Senate Judiciary Committee, said Tuesday of Palo Alto University professor Christine Blasey Ford — who said Kavanaugh held her down and tried to remove her clothes before she was able to get free.
Ford and her lawyers want the FBI to look into the allegations, but Republicans are so far refusing. They are also refusing to call any other potential witnesses of the sexual assault to testify, leading Ford's lawyers to accuse the GOP of not holding a "good faith investigation."
Without thoroughly vetting the allegations, the lingering questions could put an asterisk over Kavanaugh's eventual Supreme Court tenure, should he be confirmed to the nation's highest court. And the breakneck pace at which Republicans are moving following Ford coming forward with her allegations could come at a political cost to the GOP, which is already struggling with female voters ahead of the midterm elections.
As the back and forth about how to proceed with Kavanaugh's nomination continues, here's what we know from a handful of players about the allegations:
From Ford herself
Ford alleged that in 1982 — when she was 15 and Kavanaugh was 17 — Kavanaugh and his friend, Mark Judge, pushed her into a bedroom, and that Kavanaugh then tried to remove her clothes and held his hand over her mouth to muffle her screams.
"I thought he might inadvertently kill me," Ford told the Washington Post. "He was trying to attack me and remove my clothing."
Ford — who said that both Kavanaugh and Judge were "stumbling drunk" — said she was able to escape.
She said she kept the incident to herself until 2012, when she brought it up during a couples therapy session with her husband. Kavanaugh's name is not in the therapist's notes, but the therapist did write down that Ford made the accusation against students "from an elitist boys' school" who are now "highly respected and high-ranking members of society in Washington," according to the Washington Post.
In 2013, Ford was being treated in individual therapy sessions for effects of a "rape attempt," the Washington Post reported.
From Kavanaugh
Kavanaugh firmly denies the allegations.
"I categorically and unequivocally deny this allegation," Kavanaugh said in a written statement released by the White House. "I did not do this back in high school or at any time."
Since the allegations surfaced, Kavanaugh has been to the White House multiple times, where he's going over preparations for a possible hearing before the Senate Judiciary Committee on Monday.
From Mark Judge
Judge — the other teenager alleged to have been in the room where the incident took place — didn't deny that allegations. Instead, Judge said he didn't remember the incident.
"I have no memory of this alleged incident," Judge wrote in a letter to the Senate Judiciary Committee. "Brett Kavanaugh and I were friends in high school but I do not recall the party described in Dr. Ford's letter. More to the point, I never saw Brett act in the manner Dr. Ford describes."
Judge went on to refuse to testify before the committee.
"I have no more information to offer the Committee, and I do not wish to speak publicly regarding the incidents ascribed in Dr. Ford's letter," Judge wrote.
Democrats, however, say any hearing must include Judge's testimony given that he is alleged to have been part of the incident. Congress has the power to subpoena witnesses, and Democratic lawmakers say that the Senate Judiciary Committee should exercise that power.
"We need to have a full investigation of the allegations against Judge Kavanaugh — including the testimony of Mark Judge," Sen. Doug Jones (D-Ala.) tweeted on Wednesday. "If he won't testify, he needs to be subpoenaed."
Judge, for his part, has written about his time in high school in a book from 2005 titled God and Man at Georgetown Prep.
In the book, he refers to someone named "Bart O'Kavanaugh" whom he wrote used to get drunk at parties.
From Ford's former schoolmate
Cristina King Miranda, a former schoolmate of Ford's, wrote in a Facebook post on Wednesday that she remembers the incident being talked about in school.
"Christine Blasey Ford was a year or so behind me," Miranda wrote in the Facebook post, according to NBC News. "I did not know her personally but I remember her. This incident did happen."
"Many of us heard a buzz about it indirectly with few specific details," Miranda added. "However Christine's vivid recollection should be more than enough for us to truly, deeply know that the accusation is true."
Miranda later said she didn't know first-hand if the incident occurred, but she maintains that she heard about Ford's allegation at the time.
From Yale Law students
The Guardian reported that a professor at Yale Law School told female students who were preparing to interview for clerkships in Kavanaugh's judicial chambers in the D.C. Circuit that it was "not an accident" that women Kavanaugh hired in the past "looked like models.
The professor, Amy Chua, instructed female law students who were set to interview with Kavanaugh to dress with a "model-like" femininity in order to be selected for the job, according to the Guardian's report.
From other students who knew Kavanaugh at the time
Sixty-five women who knew Kavanaugh when he was in high school signed a letter shortly after the allegations surfaced to vouch for Kavanaugh's character.
"We knew Brett well through social events, sports, church and various other activities," the letter reads. "Many of us have remained close friends with him and his family over the years. Through the more than 35 years we have known him, Brett has stood out for his friendship, character, and integrity. In particular, he has always treated women with decency and respect. That was true when he was in high school, and it has remained true to this day."
The letter went on to say that, "The signers of this letter hold a broad range of political views. Many of us are not lawyers, but we know Brett Kavanaugh as a person. And he has always been a good person."