At least 4 dead, including woman suspect, in Maryland Rite-Aid distribution center shooting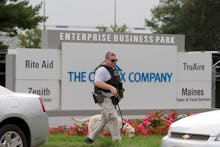 Three victims were killed Thursday after a woman opened fire at a Rite-Aid distribution center in Aberdeen, Maryland, the Hartford County Sheriff's Office said.
Two individuals died at the scene, and one died at a local hospital. Three others were wounded in the shooting and are expected to survive their injuries, according to authorities.
The shooter, a 26-year-old woman who was temporarily employed at the Hartford County facility, also died by self-inflicted gunshot wound Thursday, authorities announced. The shooter's motives are not currently known, but the woman appears to have begun shooting shortly after reporting for work on Thursday.
Hartford County Sheriff Jeffrey Gahler said earlier Thursday that the shooting was reported to his office a little after 9 a.m., and that deputies were on the scene within about five minutes.
A single handgun was used, Gahler said. He emphasized early Thursday afternoon that the investigation was in its "preliminary" stages.
No shots were fired by law enforcement, he added.
"Many people have been affected by the events this morning, and the thoughts and prayers of the Hartford County Sheriff's Office go out to all those affected," Gahler said in a press conference a little after noon Thursday.
Maryland Gov. Larry Hogan on Thursday thanked responders, whom he said he is in touch with, and expressed sympathy for victims of the shooting.
"The first lady and I are grieving for the loss of life in today's shooting in Harford County, and praying that those who were injured fully recover," Hogan said in a statement on Twitter.
Thursday, September 20, 2018, 4:20 p.m.: This story has been updated.