Mic Daily: White House reportedly backs away from challenging Jim Acosta's White House access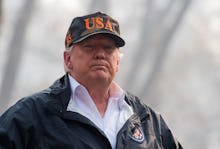 Good evening, readers, and happy Monday to you all. I hope you're looking forward to enjoy a nice short work week before the Thanksgiving holiday. Here are the five top stories out of Mic today.
Ilhan Omar is pushing to change headwear ban in the House: "No one puts a scarf on my head but me"
Ilhan Omar, who won her election earlier in November to represent Minnesota's 5th Congressional District in the U.S. House of Representatives, spoke out recently about a ban dating back to 1837 prohibiting headwear in the House that would prevent her from wearing a hijab. Read more.
What does it mean that nearly 1,000 people are still "missing" in the California wildfire?
In the time immediately following a natural disaster, the numbers of people affected or missing can change rapidly and seem unreliable. Allow Mic's own Alison Durkee to unpack all that. Read more.
Report: White House caves, decides not to revoke Jim Acosta's press pass
Over the weekend, the White House looked like it would continue fighting against CNN reporter Jim Acosta's press access to the White House, despite a court-ordered restraining order in CNN's favor issued Friday. Now, the White House is seemingly backing down. Read more.
Trump doubles down on criticism of military for not capturing Osama bin Laden sooner
Trump apparently woke up Monday morning feeling extremely mad at the Navy SEAL who helped take down Osama bin Laden. Read more.
Ohio House passes controversial "heartbeat bill" restricting abortions after 6 weeks
A bill that would ban abortions after there's a detectable fetal heartbeat has passed in the Ohio House, and is awaiting a vote in the state Senate. Read more.
Mic Daily is Mic's newsletter that cuts through the noise and lands in your inbox every weekday. We carefully curate each edition to send you a cross section of our most vital stories of the day.