Who's Sorry This Week? Ashton Kutcher, American Airlines and other public apologies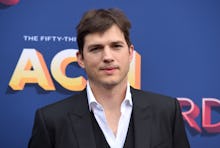 Another week, another deluge of apologies.
In Who's Sorry This Week? Mic tracks down the most prominent mea culpas from celebrities, companies and other public entities trying to make amends for their various screw-ups.
This week had no shortage of apologies, so let's get right to it.
Ashton Kutcher is sorry for hitting a teen with his Tesla
No, this isn't an episode of Punk'd — Ashton Kutcher actually did back his car into a teen, E! News reported Thursday. While backing out of a driveway Tuesday in Los Angeles, Kutcher accidentally hit 19-year-old Leo Marenghi with his Tesla.
Marenghi, who was on his way to pick up his babysitting charges from school, told E! News that Kutcher "was coming out of a driveway of the Sunset Bronson Studios, and there was a wall blocking so he couldn't see me coming ... Once I was in his sight, it was too late for him to stop and I got hit."
Kutcher jumped out of his car and quickly apologized, after which the pair took a photo together.
So, all's well that ends well?
Mark Cuban is sorry for his team's awful, harassment-permitting environment
Dallas Mavericks owner Mark Cuban apologized to the women in his employ after an independent investigation found the organization tacitly fostered an environment of pervasive sexual harassment and misconduct.
"First, just an apology to the women involved," Cuban told ESPN on Wednesday, according to USA Today. "This is not something that just is an incident and then it's over. It stays with people. It stays with families. And I'm just sorry I didn't see it. I'm just sorry I didn't recognize it."
Cuban agreed to pay $10 million to "women's leadership and domestic-violence organizations," according to the New York Times.
American Airlines is sorry for the way it treated Wale
American Airlines has apologized to Wale after the rapper said on social media that two of the airline's employees questioned his first-class seat and threatened to call the police, Essence reported Wednesday.
A representative for the airline told Essence that when the plane landed in Los Angeles, Wale "was sitting in his correct seat … but he wasn't showing on [the flight attendants'] tablets as being on their aircraft ... His seat was inadvertently dropped in the system when they boarded back."
The airline said it was "investigating" the incident, calling it an "IT issue."
"We just want to apologize to Wale for what really occurred here," the airline added. "He's a good customer of ours. He flies with us regularly. We really just want to apologize profusely."
The New York Times is sorry it confused Angela Bassett with Omarosa Manigault
The New York Times apologized Wednesday for misidentifying Angela Bassett as Omarosa Manigault in a photo caption — a mistake that did not go unnoticed on Twitter.
How, exactly, anyone could confuse a lauded actor with a reality TV star-turned-White House-adviser-turned-tell-all-author escapes us, but the Times tweeted a sort-of apology, saying, "We regret running an incorrect caption from a photo wire service in some early print editions. We will issue a correction in tomorrow's paper."