Monica Lewinsky, Lena Dunham and others sign letter opposing the new Netflix show 'Afflicted'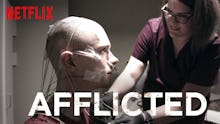 The outcry over the new Netflix docuseries Afflicted is growing. On Tuesday, a group of advocates, medical professionals and celebrities — including Monica Lewinsky and Lena Dunham — published an open letter on Medium outlining their concerns over the show.
Afflicted purports to tell the stories of people with chronic illnesses, but its participants have since said they feel misrepresented. Disability advocates contend the series encourages prejudice against the chronically ill.
"We are a group of writers, activists, artists, filmmakers, physicians, patients and scientists who write to express our profound disappointment with the recently released Netflix docuseries Afflicted," the letter begins.
"We are deeply concerned about its unethical treatment of its subjects and its many factual errors and omissions. Its inclusion on your platform — which reaches 300 million viewers worldwide — will reinforce barriers to appropriate medical care or disability benefits, dampen the support of vital research and add to the stigma and social isolation of an already profoundly marginalized group of people."
The show, which premiered on Netflix in August, has the tagline: "Baffling symptoms. Controversial diagnoses. Costly treatments. Seven people with chronic illnesses search for answers — and relief."
Participants and viewers alike have accused the series of exploitation and misrepresentation. As Julie Rehmeyer wrote in an opinion piece for the Los Angeles Times on Tuesday, "Nothing has brought home to me the dangers of prejudice against those who are chronically ill like the new Netflix documentary series Afflicted."
Rehmeyer pointed out the series showcases individuals with health problems such as chronic fatigue syndrome and mold illness but then features family members questioning whether those illnesses are even real.
"The patients are depicted as bleeding their loved ones dry of money and goodwill, as abandoning reputable doctors in favor of greedy quacks and as being freaks utterly unlike normal healthy people," Rehmeyer wrote.
Back in August, Jill Maxi Edelstein, one of the subjects of the docuseries, wrote an essay on Medium accusing the show of distorting her illness, multiple chemical sensitivity.
"I had no idea that the 'documentary' would be a reality show that asks the question, 'Is this real?'" Edelstein wrote. "Had I known, I would never have signed on. I am heartbroken and furious. I am being harassed, criticized and questioned."
Edelstein also accused the show of misrepresenting her romantic relationship, her finances and the timeline of her illness — and of crafting a narrative meant to discredit her own account of her symptoms.
Another Afflicted participant, Bekah Fly, told HuffPost that although producers assured her they were committed to telling her story with compassion, she was dismayed to see the show question whether her chronic illness was real.
"Saying these illnesses are all in people's minds is very dangerous because they aren't yet being addressed by the mainstream medical community," Fly said. "This is a community that's already marginalized, and [Afflicted] further marginalized us to the world because Netflix has so many viewers."
Afflicted executive producer Dan Partland responded to the allegations in a statement to HuffPost. "We are saddened and upset by some of the reaction to the series," Partland said. "Our intention was to give the world a compassionate window into the difficulties of patients and families suffering from elusive and misunderstood illnesses, to humanize their struggle and to show that struggle in all its complexity."