While You Weren't Looking: 5 stories from the Trump administration that aren't about Brett Kavanaugh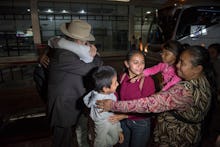 Judge Brett Kavanaugh's delayed Supreme Court confirmation continued to dominate national headlines this week — particularly amid speculation over whether or not Christine Blasey Ford, the woman accusing him of an attempted sexual assault more than 30 years ago, plans to testify before the Senate Judiciary Committee.
While Washington's eyes were on the judiciary, and while President Donald Trump was attacking Ford on Twitter, here are five stories you might have missed this week.
The Senate passed a sweeping legislative package aimed at curbing the opioid epidemic
On Monday, the Senate passed a bipartisan bundle of 70 bills in an effort to crack down on the opioid epidemic plaguing the country.
According to the Washington Post, Republican Sen. Mike Lee of Utah was the only dissenter, with 99 other senators voting to approve the legislation.
The package will reportedly cost an estimated $8.4 billion, and will target the dissemination of the deadly synthetic drug fentanyl. It will also widen the scope of doctors when it comes to writing prescriptions, such as buprenorphine, aimed at curbing addiction.
FEMA chief Brock Long's commute is under federal investigation
Federal Emergency Management Agency chief Brock Long landed in hot water this week after the Department of Homeland Security's inspector general announced that his frequent commutes to North Carolina would be the subject of an internal investigation.
The Wall Street Journal reported that Long and two other employees who were also on the federal dole could have broken as many as six laws when they used taxpayer dollars to fund their trips to Long's home in Hickory, North Carolina.
Sources told the Journal that a preliminary report from the inspector general had the White House posed to fire Long on the spot, but the looming threat of Hurricane Florence staved off an impending termination.
Space Force reportedly experiencing a failure to launch
Space Force, President Trump's special pet project, is reportedly the subject of a coup being staged by a bipartisan group of generals and lawmakers who never want to see the new branch of the military take off.
According to Politico, the effort to forestall Space Force is being led by Republican Reps. Steve Knight of California and Mike Coffman of Colorado, amid fears that the program's massive budget would divert resources from other defense programs and potentially weaken the military.
"I think it's a really bad idea," Coffman told Politico. "I have worked to reduce the size of the Pentagon bureaucracy. And now we have a plan by this administration to expand that bureaucracy by creating a whole new branch of military service — a department of space — without, I believe, a commensurate increase in capability."
The U.S. apparently lost track of another 1,500 migrant children
The U.S. government has reportedly lost track of nearly 1,500 migrant children who illegally entered the United States alone this year, new congressional findings that were released on Thursday reveal.
According to the investigation, which the New York Times originally reported, the children in question were placed into the care of sponsors after initially being housed in federal shelters upon arriving in the country unaccompanied. But of the 11,254 children the agency matched with sponsors in 2018, senate investigators said that the exact locations of 1,488 are currently unknown.
"As communicated to members of Congress multiple times, these children are not 'lost,'" Caitlin Oakley, a spokeswoman for the Department of Health and Human Services, told the Times. "Their sponsors — who are usually parents or family members and in all cases have been vetted for criminality and ability to provide for them — simply did not respond or could not be reached when this voluntary call was made."
Weakened regulations around methane emissions cause worry
As the Environmental Protection Agency proposes loosening key Obama-era regulations around methane emissions, climate scientists are reportedly wringing their hands about the potential damage the rollbacks could have on the environment.
"Methane is responsible for a large percentage of the climate disruption and the damage to people and property and landscapes that we're seeing today," Matt Watson, associate vice president of climate and energy at the Environmental Defense Fund, told Bloomberg in an interview. "Reducing methane emissions is an exceptionally cost-effective way to slow climate change."