Kavanaugh accuser open to testifying next week, but says Monday is "not possible"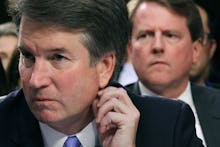 Christine Blasey Ford, the Palo Alto University professor who accused Supreme Court nominee Brett Kavanaugh of sexual assault, said she is open to testifying next week, but that the Monday date Republicans have demanded she agree to is "not possible."
In a letter to the Senate Judiciary Committee that was obtained by the New York Times, Ford's lawyers said that Republicans' "insistence" that she testify on Monday is an "arbitrary" date, and that she is "prepared to testify next week," if she's offered "terms that are fair and which ensure her safety."
Ford also wants a "full investigation" before her testimony takes place, but did not say that a full FBI investigation is necessary before she appears before the committee.
Ford's lawyer, Debra Katz, asked to speak to the committee on Thursday to "discuss the conditions" of Ford's possible testimony.
Republicans, for their part, have said that Ford can testify on Monday or not testify at all — a demand Ford's lawyers said was not made in "good faith."
Ford's accusations have upended Kavanaugh's confirmation battle. She accused Kavanaugh of trying to rape her at a party in the 1980s when both she and Kavanaugh were teenagers.
Kavanaugh flatly denies the accusations, and has vowed to continue on with his nomination.