These black women tattooists are traveling the country to show off their skills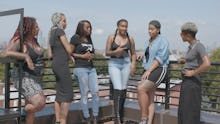 For the past three summers, the women of Ladies of Ink — a group of black women tattooists — have traveled the country, stopping in major cities and building a diverse clientele that respects their work.
The group was birthed from a social media experiment by its founder, Lady L. When she asked her Instagram followers how many black female tattooists they knew and most of them pointed to her, she knew she had to do something about it.
"I wanted to get as many people as I could together to travel because I thought that it would be dope to show them, like, 'Yeah, we're out here, might not be a lot of us, but we're out here,'" Lady L told Mic Dispatch.
Even with the meteoric fame of artists like Kat Von D, women tattooists are still in the minority. In fact, just one in six tattooists are women — and even fewer of them are women of color.
Life on the road isn't always comfortable.
"We actually had one person," Lady L. said. "They said, 'You guys can come to the shop and work.' And then I promise you when he saw who we were, he was like, 'It's not going to work out.'"
But Lady L and other members of the group are unfazed. Their mission is larger than any bigotry they may face.
"I never feel intimidated," Kristen "The Butcher" Woodhouse, a member of Ladies of Ink, said. "Because, honestly, in this industry we're going to stand out. People, you know, they're not used to seeing us, so when they do see us, they're curious, which makes them inquire, which makes them get tattooed and follow our art and follow us as a group."
Check out episode 21 of Mic Dispatch above — only on Facebook Watch.
To catch future episodes of Mic Dispatch, follow Mic Dispatch on Facebook Watch. For more stories about the show, visit the Mic Dispatch collections page.