'Mic Dispatch': Trans male models and barriers to entry; exploring a rash of taxi-driver suicides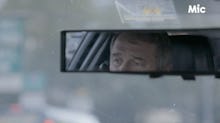 On this edition of Mic Dispatch, we explore the many barriers transgender male models face within the fashion world. The number of trans models in fashion continues to tick up season after season, but those opportunities tend to go to trans women and not trans men.
Despite the roadblocks, model Laith Ashley has successfully carved out a space for himself in the industry, appearing in campaigns for Diesel and Barney's, walking for Gypsy Sport and Marco Marco and gracing the covers of magazines like Attitude and Gay Times. In many senses, Ashley is paving the way for greater inclusion of trans men in media.
Although trans male models can face barriers to entry — most commonly being too short in an industry that favors height — it's thanks to places like Slay Model Management, an all-trans modeling agency founded by Cecilio Asuncion in 2015, that more opportunities are being flagged.
Chella Man, a 19-year-old genderqueer, trans-masculine-presenting artist, is also having a breakout year. On Tuesday, Chella Man signed with top talent agency IMG. Man, who has appeared in campaigns for MAC Cosmetics, American Eagle, Gap, ASOS and Dr. Martens, said modeling was not something he chose, but something that chose him through various brands discovering him via social media.
Next up, we sit down with Nic Hunt, who has been driving a yellow cab in New York City for over 30 years. 2018 has been a particularly hard one for Hunt: In March, his best friend, Nicanor Ochisor, killed himself. Ochisor was also a cab driver, and his family believes the financial pressure he faced from increased competition from ride-hailing apps like Uber and Lyft contributed to his death.
Six NYC cab drivers have died by suicide since November, and cities across the world have seen driver suicides and mass protests from drivers against ride-hailing apps. According to the New York City Taxi Workers Alliance, taxi drivers' incomes declined by an average of 23% between 2013 and 2016. In New York, taxis need a medallion, or a license, to operate. The city has kept a tight cap on the total number of medallions for years, and that limited supply made medallions increasingly valuable until ride-hailing app cars, which don't require medallions, became popular. Three of the six drivers who died by suicide owned medallions.
Check out episode 20 of Mic Dispatch above — only on Facebook Watch.
To catch future episodes of Mic Dispatch, follow Mic Dispatch on Facebook Watch. For more stories about the show, visit the Mic Dispatch collections page.