Michael Cohen has reportedly discussed Trump's dealings with Russia in interviews with Mueller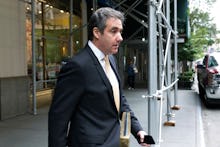 Michael Cohen has discussed President Donald Trump's dealings with Russia in hours of interviews with special counsel Robert Mueller's team over the past month, ABC News reported Thursday.
According to ABC News, Trump's former personal attorney and fixer has participated in multiple interviews with Mueller in recent weeks, the conversations in which "focused primarily on all aspects of Trump's dealings with Russia — including financial and business dealings and the investigation into alleged collusion with Russia by the Trump campaign and its surrogates to influence the outcome of the 2016 presidential election."
Investigators also reportedly asked whether Trump or anyone close to him had discussed the possibility of a pardon with Cohen, suggesting Mueller's team is considering Cohen's testimony in their probe into possible obstruction of justice on the part of the president.
Cohen — who once said he'd "take a bullet" for Trump — pleaded guilty in August to eight charges, including two campaign finance violations related to his efforts to silence women who allegedly had affairs with Trump years earlier.
He implicated Trump in the two campaign finance violations, telling a federal judge he broke the law "in coordination with and at the direction of a federal candidate for office," a clear reference to Trump.
The guilty plea put Trump in potential legal and political peril, but he claimed what Cohen confessed to was "not a crime" and accused his former lawyer of "[making] up stories in order to get a 'deal'" — unlike his former campaign manager, Paul Manafort, who was convicted on eight charges stemming from the Mueller probe the same day Cohen pleaded guilty.
Manafort has since cut a plea deal with the special counsel in what could be another major blow to the president.
For his part, Trump maintains there was "no collusion" and "no obstruction."
According to ABC News, Cohen is also cooperating with investigators in New York who are conducting a probe into the Trump Foundation and the Trump Organization — the president's family charity and business.