Today in Trump's America: Poll shows Brett Kavanaugh underwater in approval among Americans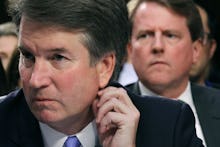 Welcome to Mic's daily read on Donald Trump's America. Want to receive this as a daily email in your inbox? Subscribe here.
Good morning from Emily Singer at Mic.
Here's what's happening in Trump's America:
• Trump is still in Las Vegas, after holding a rally Thursday night for GOP Sen. Dean Heller. He begins his day at 9:20 a.m. Pacific time, when he'll hold a "roundtable with supporters" — aka, a high-dollar fundraiser.
About last night: A plurality of Americans oppose Kavanaugh's nomination
Opposition to Brett Kavanaugh's Supreme Court nomination has skyrocketed over the past month, with a plurality of Americans now saying they oppose Kavanaugh's confirmation, according to a new NBC/Wall Street Journal poll released Thursday evening.
Just 34% of Americans say they support Kavanaugh's nomination, as opposed to the 38% who oppose him being confirmed to the nation's highest court.
That opposition number climbed 9 points since August, at which point just 29% opposed his nomination, according to the poll.
This marks the first time since 2005, when NBC/WSJ began polling Supreme Court nominee approval, that a nominee is underwater ahead of a potential confirmation.
Even Harriet Miers, who was forced to withdraw her nomination by then-President George W. Bush over concerns about cronyism and her lack of qualifications for the role, was above water in polling on her nomination among Americans, according to the NBC/WSJ poll.
The poll on Kavanaugh comes as Republicans scramble to save his nomination hopes amid accusations that he attempted to rape a female peer when both were in high school in Maryland decades ago.
Republicans are currently working with the accuser, Palo Alto University professor Christine Blasey Ford, to come up with a time for her to testify about her allegations.
Problems for Kavanaugh have grown so bad that Ed Whelan, a conservative activist and former Supreme Court clerk, tweeted a conspiracy theory on Thursday that pins the attempted rape allegations on a former classmate of Kavanaugh's with no proof other than the classmate looks like Kavanaugh.
Whelan's conspiracy, which he outlined on Twitter, could constitute defamation, the Daily Beast reported.
On Friday morning, Whelan apologized for naming the classmate.
"I made an appalling and inexcusable mistake of judgment in posting the tweet thread in a way that identified Kavanaugh's Georgetown Prep classmate," Whelan tweeted. "I take full responsibility for that mistake, and I deeply apologize for it. I realize that does not undo the mistake."
Today in Trump's America: RNC admits Republicans have "lost the messaging battle" on tax reform
An internal poll from the Republican National Committee said the GOP has "lost the messaging battle" on tax reform, Bloomberg News reported Thursday night.
The RNC poll found 61% of voters think the GOP tax law benefits "large corporations and rich Americans" over "middle class families."
During the debate over the tax bill, Republicans said passing the law would be a boost to their party's midterm election chances.
However, since the law passed in December 2017, Republicans have largely ditched the tax reform message — opting instead to run on culture war issues such as NFL players standing for the National Anthem and anti-immigrant messaging.
And the rest...
Michael Cohen dishes to Mueller: Trump's former personal lawyer Michael Cohen sat for hours of interviews with special counsel Robert Mueller's team over the past month, answering questions that "focused primarily on all aspects of Trump's dealings with Russia," ABC News reported.
Investigators also asked Cohen whether Trump or anyone in his close orbit discussed pardons with Cohen, ABC News reported.
The line of questioning signals Mueller's team is still probing possible collusion between the Trump campaign and Russia as well as whether Trump has attempted to obstruct justice with the probe.
GOP congressman makes off-color joke about Kavanaugh and rape: GOP Rep. Ralph Norman (R-S.C.) made a truly cringe-worthy joke about the attempted rape allegations against Kavanaugh Thursday.
"Did y'all hear this latest late-breaking news from the Kavanaugh hearings?" Norman said at a Kiwanis Club debate, according to the Post and Courier. "Ruth Bader Ginsburg came out that she was groped by Abraham Lincoln."
Oof.
Friday Sept. 21, 2018 9:01 a.m.: This article has been updated.