Hype Daily: The 'Veronica Mars' reboot is officially on and more entertainment news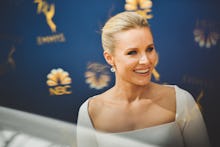 Welcome to Hype Daily, Mic's morning entertainment roundup. Here's everything you need to catch up on in the entertainment world and what to look forward to today. Want to receive this as a daily email in your inbox? Subscribe here.
It's Friday, folks, so we've made it through another week of entertainment news. Let's take a look at the latest headlines before we rocket into the weekend.
The Veronica Mars reboot is officially coming to Hulu
On Thursday, Kristen Bell finally confirmed the highly anticipated Veronica Mars reboot is coming to Hulu. "BREAKING NEWS out of Mars Investigations!," Bell tweeted, "A new #VeronicaMars series is comin atcha via @hulu. Thank you to all the marshmallows for staying excited and to @Hulu for giving Veronica a chance to wear her big girl pants. I hope we're still friends after I taser you."
Bell starred in the original teen mystery series, a cult classic of the early aughts. Veronica Mars already came back from the dead once in the form of a crowdfunded film, but the new Hulu series will be a true reboot. According to CNN, the eight-episode order will follow Bell's Veronica Mars as she investigates a series of spring break murders in her fictional hometown of Neptune. Sign me up.
Cary Fukunaga will direct the upcoming 25th Bond movie
Cary Fukunaga, the award-winning director of True Detective and the new Netflix series Maniac, which premieres on the platform today, has been tapped to direct the 25th James Bond movie. As the Hollywood Reporter reported Thursday, Fukunaga's take on Bond is due out Feb. 14, 2020.
Daniel Craig will return as Bond for what might be his last movie in the franchise. Fukunaga replaces director Danny Boyle, who had originally been on board to direct the Bond 25. Boyle left the project in August after "creative differences," according to the Hollywood Reporter. Well, we can't wait to see what you do with it, Cary.
The new trailer for If Beale Street Could Talk is here
The new trailer for Barry Jenkins' upcoming James Baldwin adaptation If Beale Street Could Talk dropped Thursday, and it looks beautiful. The film, due out this fall, is Jenkins' follow-up to his visually stunning and Oscar-winning film Moonlight.
If Beale Street Could Talk was a hit at the Toronto International Film Festival, and it's already getting Oscar buzz. The film tells the story of KiKi and Fonny, a couple in 1970s Harlem, who are painfully separated when Fonny is falsely accused of rape. Watch the emotional new trailer here.
And the new trailer for Big Mouth is also here
And now to a very, very different kind of trailer — the new trailer for the raunchy Netflix puberty cartoon Big Mouth also dropped Thursday. The show, created by real-life friends Nick Kroll and Andrew Goldberg, premieres its second season Oct. 5.
The show follows a group of middle schoolers struggling with the trials and travails of puberty — including new hair, surprise arousal and intense mood swings. Check out the trailer here, and look out for more amazing voice acting from Maya Rudolph, who plays one of the "puberty monsters."
Put this on your radar: Love, Gilda
The new documentary Love, Gilda, about the pioneering comedian Gilda Radner, one of the founding cast members of Saturday Night Live, opens in theaters today. The documentary examines her childhood and young adulthood, her place as a woman in the male-dominated world of comedy and her legacy for women comedians who followed in her footsteps. It also delves into her relationship with Gene Wilder and her cancer diagnosis.
The Chicago Tribune called the new film "an ode to Saturday Night Live's first female comic superstar." Check out a trailer here.