Google employees brainstormed ways to use its search engine to counter Trump's travel ban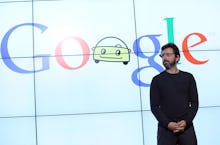 Google brainstormed ways to counter Trump's travel ban via an email chain filled with ideas, according to the Wall Street Journal. Some employees suggested encouraging its users to donate to pro-immigration organizations, contact lawmakers and government agencies about the ban. The ideas were never implemented into the company's products.
In 2017, an executive order issued by Trump banned many refugees from entering the country. Additionally, the order suspended visas belonging to people hailing from certain Muslim-majority countries in the Middle East and Africa. As of June 2018, the Supreme Court chose to continue allowing the ban, affecting travel to the U.S. from seven countries: Iran, Libya, North Korea, Somalia, Syria, Venezuela and Yemen.
Sergey Brin, Google co-founder and president of Google parent company Alphabet, openly protested the ban shortly after it was announced. The co-founder immigrated to the United States from the Soviet Union at 6 years old.
Google's politics are a constant point of contention for the company. In August 2017, James Damore, a Google employee, came under fire for releasing a memo explaining why fewer women are hired for tech jobs and offered methods of hiring that proposed to stop discriminating against men. Damore was fired from Google.
More recently, Google saw pushback from its own workers when employees learned it was working with the government to provide artificial intelligence for drones. Additionally, employees went on strike to protest the company's creation of a censored version of Google search for China. A letter signed by 1,400 employees noted that, "Currently we do not have the information required to make ethically informed decisions about our work, our projects, and our employment," the employee letter to management said.
Outside of the company, Google has been criticized for its liberal views. A video obtained by Breitbart revealed an internal company meeting where CEO Sundar Pichai and founders Brin and Larry Page met to discuss the election of Trump. In the video, Brin can be seen calling Trump supporters extremists and fascists. Kent Walker, Google vice president of global affairs, noted Trump's campaign was motivated by fear and xenophobia.
Meanwhile, Trump has taken issue with Google's handling of conservative news on its platform, saying the site is suppressing right-leaning voices.