After days of restraint, Trump lashes out at alleged Kavanaugh victim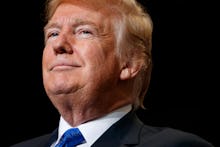 President Donald Trump on Friday questioned the account of Christine Blasey Ford, the woman who has accused Supreme Court nominee Brett Kavanaugh of attempted sexual assault. The attack on Ford came mere hours after unnamed White House officials reportedly expressed relief that Trump showed restraint in commenting on the allegations, according to Axios.
"I have no doubt that, if the attack on Dr. Ford was as bad as she says, charges would have been immediately filed with local Law Enforcement Authorities by either her or her loving parents," Trump said, referring to Christine Blasey Ford, the Palo Alto University professor who accused Kavanaugh of trying to sexually assault her at a high school party in the early 1980s. "I ask that she bring those filings forward so that we can learn date, time, and place!"
Shortly thereafter, Trump asked why Ford didn't "call the FBI 36 years ago?"
There's plenty to unpack from Trump's comments. First, studies have shown that a minority of sexual assault survivors report their assault to authorities.
"Only 310 out of every 1,000 sexual assaults are reported to police," according to the Rape, Abuse & Incest National Network. "That means about two out of three go unreported."
RAINN says there are a number of reasons why victims never report their abuse, including fear of retaliation, the belief that the police wouldn't help and feeling like the crime was a personal matter.
As for Trump's FBI comment — referencing Ford's desire for the FBI to investigate her accusations before her hearing — there is no reason why the FBI would have been involved 36 years ago.
Kavanaugh is a federal official who received a federal background check — conducted by the FBI — to hold his position. At the time of the alleged incident in the 1980s, he was just a high school student, and therefore the crime would not have fallen under FBI jurisdiction.
Trump's Friday morning outburst came after a White House official told Axios that they have been working hard to keep Trump from making insensitive comments and attacking the victim.
"Hopefully he can keep it together until Monday," the White House official told Axios — ostensibly referring to the date Republicans want Ford to testify about her accusations. "That's only, like, another 48 hours right?"