North Korea's nuclear program is still alive and well. Will a new peace agreement move the needle?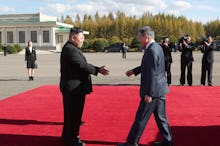 South Korean President Moon Jae-in and North Korean strongman Kim Jong Un on Wednesday signed a peace agreement the leaders said could lead to denuclearization of the peninsula.
Kim, who signed the agreement during his third summit with his South Korean counterpart, said the regime could take major steps toward dismantling its nuclear program if the United States takes "corresponding measures" and promised to continue working toward peace on the peninsula.
"The world is going to see how this divided nation is going to bring about a new future on its own," Kim said Wednesday in a joint press conference with Moon.
But is North Korea really be preparing to take concrete steps toward denuclearization — despite weeks of deadlock in its fragile diplomacy with the U.S.?
It's too soon to say.
North Korea, after all, has broken plenty of promises to denuclearize in the past — and a number of observers have already expressed skepticism this time will be any different.
What's more, it's unclear what "corresponding measures" North Korea would want the U.S. to take — and if the U.S. would be willing to take them.
But some experts are cautiously optimistic after the latest round of talks between Kim and Moon, suggesting the South Korean president's diplomatic outreach could, in fact, bring stability to the region.
"Short of the North handing over a complete inventory of its nuclear arsenal, we're always going to be left wanting more from these summits," Catherine Killough, a Roger L. Hale fellow at Ploughshares Fund who focuses on North Korea's nuclear program, said in an email. "But putting the closure of [the Yongbyon Nuclear Scientific Research Center] on the table is a significant step toward stopping the North's fissile material production, and it would get the ball rolling on addressing other key parts of North Korea's nuclear program."
In the agreement signed Wednesday, Kim offered to shutter Yongbyon, which has been described as the "heart" of North Korea's nuclear program, as well as its Tongchang-ri missile engine testing site and launch facility.
Killough said such specific pledges on the part of Pyongyang are notable and called Kim's warm treatment of Moon a "big indication of how far North-South relations have shifted."
"Kim Jong Un was showing off a partner in the South, not a U.S. puppet," Killough said of Moon.
Moon on Thursday said Kim "wanted to complete denuclearization quickly and focus on economic development," adding the future of the talks now lies with the U.S.
Erica Fein, advocacy director at Win Without War, a progressive foreign policy group, said in an email interview that Moon's continued outreach has "yielded a very welcome easing of tensions" — and that the Trump administration should follow suit.
"The ball is now in the United States' court," Fein said. "There are essentially two options: The U.S. can engage meaningfully and put confidence-building measures — like an end-of-war declaration — on the table, or it can waste all of the tireless work President Moon has put in thus far to create a new diplomatic environment."
Trump, who first met with Kim in Singapore in June, cheered the developments, tweeting Tuesday that the apparent progress was "very exciting!"
Still, a great deal of uncertainty remains over the state of U.S.-North Korea relations.
Trump has publicly spoken positively about his relationship with Kim and has expressed confidence Pyongyang will denuclearize. But his administration has reportedly been adopting a harder line on North Korea, and Trump in August announced Secretary of State Mike Pompeo's upcoming diplomatic trip to North Korea had been canceled due to a lack of "sufficient progress" in the wake of the Singapore summit in June.
Though Trump claimed after that historic meeting there was "no longer" a North Korean nuclear threat, negotiations have since stalled.
Meanwhile, Pyongyang has been pointing its finger at Washington over the diplomatic stalemate, with North Korean state media on Tuesday blaming the "gangster-like" posture of the U.S. for the deadlock.
Pompeo — with whom North Korea wants another meeting soon, according to South Korea — said Wednesday he's restarting negotiations with Pyongyang with the goal of denuclearizing the peninsula by 2021.
Trump is expected to meet with Moon at the United Nations General Assembly, and his administration is currently preparing for a second summit between Trump and Kim.