Trump pumps brakes on Russia document declassification, says inspector general conducting review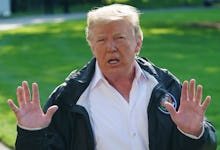 President Donald Trump announced Friday morning he has directed the inspector general to review documents related to the Russia probe, which he ordered the Department of Justice to declassify, citing a "perceived negative impact" on the investigation and requests from "key allies."
"I believe he will move quickly on this," Trump tweeted Friday morning. "In the end I can always declassify if it proves necessary."
The announcement came as Trump signaled "very good allies" are concerned about the decision to declassify the documents. His administration said in a statement Monday the move was made in the name of "transparency."
Speaking to Fox News host Sean Hannity before a rally in Las Vegas Thursday evening, Trump said "very good" United States allies expressed concern about his directive to make documents related to the Russia probe public and suggested he may "respect their wishes."
"We're moving along. We're working along. We're also dealing with foreign countries that might have a problem," Trump said. "It's not as simple as all that and we do have to respect their wishes. But it'll all come out."
It wasn't clear what countries Trump was referring to, but his tweets Friday morning suggest he'll address their concerns as well as those expressed by the DOJ — for now.
"Speed is very important to me — and everyone!" he tweeted.
On Monday, Trump announced he ordered the Justice Department and the Office of the Director of National Intelligence to declassify documents related to the Foreign Intelligence Surveillance Act warrants used to surveil former campaign aide Carter Page; FBI reports related to Russia composed by Bruce Ohr; and "all text messages" related to the Russia investigation exchanged by Ohr, James Comey, Lisa Page, Peter Strzok and Andrew McCabe.
All of the DOJ and FBI officials named in the statement Monday have been the subject of repeated attacks by Trump, who has slammed special counsel Robert Mueller's Russia probe as a "witch hunt" designed to undermine his presidency.
Trump and his allies have long used the FISA warrants against Page in their attacks on the Russia investigation. In February, Rep. Devin Nunes (R-Calif.) released a controversial memo detailing supposed abuses of power on the part of the DOJ and FBI. But the report appeared to be missing key information and was described by some observers as "advocacy" on behalf of the president.
"This is advocacy, and not particularly sophisticated advocacy," Patrick Cotter, a former federal prosecutor, told Mic at the time. "Not impartial legal analysis."
Trump's critics, who have suggested his ongoing battle with federal law enforcement could constitute obstruction of justice, have suggested his decision to declassify the Russia probe documents this week was further evidence he is interfering in the special counsel's investigation.
"President Trump has intervened again in a pending investigation by ordering the selective disclosure of classified materials he believes to be helpful to his defense," Rep. Adam Schiff (D-Calif.), the top Democrat on the House Intelligence Committee, tweeted Monday. "The DOJ and FBI have previously informed me that release of some of this information would cross a red line."