What Melania wore her 87th week as first lady, including to meet her Polish counterpart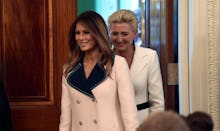 While her husband was reportedly being held back from tweeting about his Supreme Court pick, first lady Melania Trump was showing off a fall look to meet with Poland's president and his wife at the White House. Other than that, Trump stayed out of the spotlight again — it was another week with just a single public sighting of the first lady.
That doesn't mean she was free from controversy, though. News broke Friday that Trump's spokesperson, Stephanie Grisham, received a warning for violating federal law after she used her official government Twitter to send a partisan tweet. But that doesn't actually have anything to do with Trump's fashion, so let's talk about her look, shall we?
A Gucci coat to meet Poland's president and first lady
The president and first lady hosted Polish President Andrzej Duda and his wife, Agata Kornhauser-Duda, at the White House on Tuesday. Trump sported a double-breasted, off-white wool coat from Gucci that retails for around $4,000. She paired the coat with black stilettos.
While a wool coat is obviously a great look for fall, it's a slightly confusing choice for the first lady, considering the weather in D.C. on Tuesday was reportedly a muggy 80 degrees. Perhaps the air conditioning in the Oval Office was turned up to full blast?
That's all for this week, folks! Tune in next week for more Trump lewks.
You can read previous recaps of what Melania Trump wore here.