Cody Wilson, 3D printed gun vigilante, arrested in Taiwan on sexual assault charges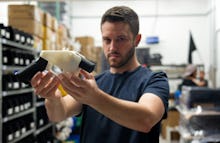 Taiwanese police arrested 3D-printed gun manufacturer Cody Wilson in Taipei on Friday on sexual assault charges that stem from an alleged affair he had with a 16-year-old girl.
According to BuzzFeed News, Wilson's passport and legal documents, which he'd used earlier in the week to check into a business hotel in the capital's Wanhua District under his real name, had been canceled by the American Institute in Taiwan. When police located him in the hotel at around 5 p.m. local time, he reportedly did not resist arrest.
In a statement supplied to BuzzFeed News, Taiwan's National Immigration Agency said because Wilson had "lost a valid travel document, he no longer has a legal status to stay in Taiwan. The National Immigration Agency is now urging the American Institute in Taiwan to issue a valid travel document for Mr. Wilson, so he can be deported back to the U.S. accordingly. The AIT will determine how Mr. Wilson shall be handled."
On Sept. 19, Wilson was charged with sexual assault in Texas, where he is based, after he was accused of having sex with a 16-year-old girl and subsequently paying her $500. In an affidavit first obtained by KVUE, the victim claimed that she had met Wilson on the website SugarDaddyMeet.com, and law enforcement officials had confirmed the existence of surveillance footage capturing Wilson and the victim checking into an Austin, Texas, hotel together on Aug. 15.
According to BuzzFeed News, Wilson had fled the U.S. for Taiwan after the alleged victim's friend tipped him off to the police investigation into the incident, and had reportedly signed a six-month contract for an apartment one day prior to his arrest.
Wilson and Defense Distributed, the company he helped found, have been the subject of an ongoing court battle over whether the company should be legally allowed to widely disseminate the blueprints for untraceable, 3D-printed weapons online.
In his August ruling, Judge Robert S. Lasnik of the U.S. District Court for the Western District of Washington granted a preliminary injunction on the blueprints with the intention of mitigating risks to the public, arguing that the lawyers who had filed suit against Wilson "have a legitimate fear that adding undetectable and untraceable guns to the arsenal of weaponry already available will likely increase the threat of gun violence they and their people experience."
In response, Wilson vowed to skirt the ruling. In the weeks leading up to his arrest, he had pledged to mail out the blueprints via secure USB drives rather than publishing them on the internet in an attempt to get them into as many hands as possible.