With #WhyIDidntReport, sexual assault survivors remind Trump about the dangers of rape culture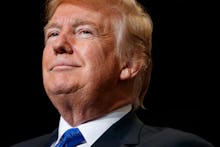 Sexual assault survivors and civil rights organizations are using the hashtag #WhyIDidntReport to remind President Donald Trump the process of reporting assault allegations to authorities often discourages victims from speaking out.
The harsh realities of how rape culture protects assailants and silences victims was evident in the thousands of heartbreaking stories shared Friday using the hashtag.
#WhyIDidntReport began trending after Trump speculated Friday on Twitter why Christine Blasey Ford — who has accused Supreme Court nominee Brett Kavanaugh of attempted sexual assault — didn't report the incident to police when it allegedly occurred around 1982.
Ford came forward with her story after the Senate Judiciary Committee held confirmation hearings for Kavanaugh, who has denied the accusations.
"I have no doubt that, if the attack on Dr. Ford was as bad as she says, charges would have been immediately filed with local Law Enforcement Authorities by either her or her loving parents," Trump tweeted. "I ask that she bring those filings forward so that we can learn date, time, and place!"
In a subsequent tweet, Trump accused Sen. Dianne Feinstein (D-Calif.) and other Democrats of holding the letter containing details about Ford's alleged assault for months "only to release it with a bang after the hearings were over." Trump claimed this was done to "purposely" obstruct, resist and delay Kavanaugh's confirmation.
Actress and activist Alyssa Milano responded to Trump by sharing her own experience of staying silent about an alleged sexual assault. She also encouraged others to share their stories.
"I was sexually assaulted twice," Milano tweeted. "Once when I was a teenager. I never filed a police report and it took me 30 years to tell [my] parents."
Actress Ashley Judd tweeted a personal account using #WhyIDidntReport to her followers Friday afternoon.
"#WhyIDidntReport. The first time it happened, I was 7. I told the first adults I came upon," Judd wrote. "They said, 'Oh, he's a nice old man, that's not what he meant.' So when I was raped at 15, I only told my diary. When an adult read it, she accused me of having sex with an adult man."
Political analyst and SiriusXM programming director Zerlina Maxwell described what happened when she reported an alleged sexual assault to local authorities in Brooklyn, New York.
"I went to the hospital and the SVU in Brooklyn and told them what happened to me," Maxwell wrote. "They told me what I described was a rape. I was starting law school in [three] weeks so I decided not to press charges. Biggest mistake of my life."
Activist DeRay McKesson described being assaulted when he was 7.
"He was the nephew of my father's girlfriend at the time [and] was older [and] stronger than me," McKesson wrote. "It started when I was 7 [and] I thought he'd hurt me more [and] that nobody would believe me. It took [four] years to break silence. He was abusing other kids too, I later found out."
The Lawyers' Committee for Civil Rights Under Law called out Trump using the hashtag and dropped some statistics for his own information.
"[Donald Trump's] shameful tweet directed at Dr. Ford displays an ignorance of the pain associated with reporting sexual assault and a justice system that historically sides with the perpetrator," the tweet read.
The organization cited data from the Rape, Abuse & Incest National Network, whose research has found that "out of every 1,000 rapes, 994 perpetrators will walk free."
The Women's March also addressed Trump about the implications of rape culture.
"There are too many of these stories. Too many of us have these stories. Too many of us have never felt safe to share them. And men like @realDonaldTrump are why," the tweet reads.
Activist Ryan Knight described how the law blocked him from seeking justice in the years following his alleged sexual assault.
"I was molested in [second] grade," Knight tweeted. "By the time I had the courage to tell someone — 20 years later — the statute of limitations had expired. I couldn't seek justice in the court of law, but in speaking my truth I was finally able to start healing."
Rep. Terri A. Sewell (D-Ala.) wrote, "The #WhyIDidntReport stories break my heart. I applaud every person brave enough to share their story. Assaults often go unreported for many reasons @realDonaldTrump. It's important we create a culture where victims feel safe to come forward and that we believe them once they do!"
Ford has received numerous threats since coming forward with her allegations against Kavanaugh. Her lawyers are currently negotiating the terms of her potential appearance before the Senate Judiciary Committee, but noted the committee's proposed timeline would pose a burden to their client, CBS News reported.
"[It] is simply not possible for her to prepare such testimony while at the same time trying to take appropriate security precautions in the face of the avalanche of threats she has been receiving," attorney Debra Katz wrote to committee members.