Amazon publishes a library of white nationalist books and magazines. They know it, and won't stop.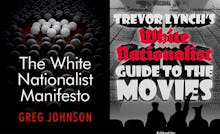 White nationalists are being run out of the online spaces most people flock to every day for news and information. Facebook has launched a review of its policy of letting white nationalists use the social network. PayPal regularly bans white nationalists from accepting money through their payment services, driving many of them toward bitcoin.
For celebrity racists and white nationalist intellectuals, one marketplace is still open for business: Amazon, where fresh titles like The White Nationalist Manifesto are available to Kindle users everywhere.
Even after years of public outrage and journalistic scrutiny, Amazon, the world's largest bookseller, continues to host white nationalist authors, both selling and publishing their works on demand. A July report by the Action Center on Race and the Economy along with the Partnership for Working Families took stock of hundreds of white nationalist titles available on Amazon, including books advocating for an all-white ethno-state, anti-Semitic conspiracy theories dressed up as science, Islamophobic conspiracy screeds and "epic adventure" stories full of white supremacist revenge fantasies.
There are entire white nationalist publishing houses hosting dozens of their books for sale on Amazon. Counter-Currents, a publisher listed as a hate group by the Southern Poverty Law Center, uses Amazon to sell titles like Pulp Fascism and Trevor Lynch's White Natonalist Guide to the Movies. Amazon has repeatedly cut Counter-Currents publishing out of special marketing campaigns, like AmazonSmile or the Amazon affiliate marketing program. But it has not removed Counter-Currents as a publisher.
And the company isn't just hosting a popular distribution hub for white nationalist publishing enterprise. It also provides a complete suite of publishing services for neo-Nazi entrepreneurs. Using Amazon's self-publishing service CreateSpace, lifelong neo-Nazi Billy Roper has published 18 books. Roper claims on Amazon that his book The Big Picture, the "handbook of the Alt Right," is "banned for possession in Israel." But Amazon advertises that the book is available for free with a subscription to Kindle Unlimited.
Amazon has no legal obligation to take down white nationalist content. But amid public pressure, it finds the impetus to draw a line in the sand. Amid the #MeToo moment, the Huffington Post reached out to Amazon about publishing rape apologist and self-proclaimed "pickup artist" Daryush "Roosh" Valizadeh, and Amazon took down nine of Valizadeh's books. After the slaying of nine parishioners at a black church in South Carolina by white supremacist Dylann Roof, Amazon stopped selling merchandise that featured the Confederate Flag.
What will it take for Amazon to remove its library of white supremacist literature? We've reached out to Amazon for comment, and will update this article when we hear back.