In 'Parts Unknown' season 12 premiere, Anthony Bourdain reveled in his work: "I pinch myself"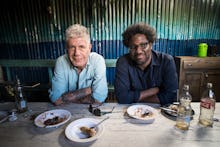 It's not a comfortable thing to watch someone who left the world too soon come alive on screen. But the late Anthony Bourdain was never one to prioritize comfort.
On Sunday, CNN aired the first episode of season 12 of Parts Unknown — which Bourdain was filming when he passed away. This episode is the last one to feature Bourdain's written narration.
It is equal parts difficult and important to watch Bourdain explore Kenya with W. Kamau Bell, the producer of CNN's United Shades of America and Bourdain's former colleague and friend. "As an African-American, there's a lot of talk about going back to this thing of the Motherland," Bell says early on in the episode. In the show, which explores blackness, we watch Bell both embrace and struggle with what it means to be black in America versus black in Kenya.
Bell is self-admittedly less well-traveled than Bourdain, and our host delights in watching his friend experience new tastes and adventures. The pair sits for a meal of goat's head soup, a dish that consists of, well, a full goat's head. Picking apart the meat, Bourdain generously hands Bell the animal's eye, which Bell admits is his first. Bourdain revels in watching Bell work to swallow, probably because after decades hosting an adventure travel show, no food really shocks him any more. "I eat that shit for breakfast," Bourdain jokes. Later in the episode, when they travel to Lewa Wildlife Conservancy, the two watch as members from the Maasai community drink the blood of a live cow. Of course, they're offered a taste. For Bourdain, the beverage goes down easy. For Bell — well, he does as well as anyone could hope to.
The episode is full of amiable taunting and camaraderie, but at the crux of it is Bourdain's powerful storytelling. In every episode of Parts Unknown, he proves himself a master, and it's never any less incredible to witness. Several people he features in the episode touch upon the "negative" stories that Kenya tends to garner from media: AIDs, poverty and drugs are often the focus of western filmmakers and, as Bourdain put it, the "white savior complex" is often activated in different parts of the country.
To highlight his version of Kenya, Bourdain speaks to a female business owner with her own Kenyan-made clothing line. She's working to combat the influx of mitumba — the second-hand clothing from western countries that has piled up here, decreasing the availability of jobs and the prosperity of the textile industry. Bourdain also meets with founders of Kibera Creative Arts, a community-run organization that empowers its youth with performance, creativity and humor.
The episode zeroes in on the growing diversity in the country. "Kenya has become a sanctuary of sorts for a number of diverse, ethnic, political and social groups," Bourdain says. He meets with LGBTQ advocates who are fighting for their basic human rights. "It should be pointed out that even being gay is still illegal here," Bourdain says.
Bourdain always had a knack for celebrating a place and its culture while hyper-consciously claiming his role of outsider. "Today's Kenya is phenomenally beautiful. There is a growing middle class, a highly rated educational system and an enthusiastic and multilingual professional sect. Which is to say, this is decidedly not a shit hole." We could always count on Bourdain for a smart, sometimes subtle jab at Trump.
"Who gets to tell the stories?" Bourdain ponders in the episode. "This is a question asked often. The answer, in this case for better or for worse, is I do. At least this time."
Looking over the expansive horizon, where giraffe roam freely, Bourdain and Bell drink gin cocktails and share a poignant, private moment. The two reflect on their trip, and Bourdain reveals that even this far into his career, he's still not jaded. "Look, I will tell you — 17 fucking years — as soon as the cameras turn off, the crew, we'll be sitting around, having a cocktail. I fucking pinch myself," he tells Bell.
"I cannot fucking believe that I get to do this," Bourdain continues. "Or see this. Ever."