Rod Rosenstein to meet with Trump on Thursday, amid reports he's exiting the administration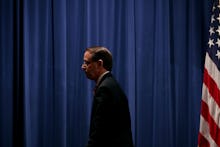 Deputy Attorney General Rod Rosenstein will meet with President Donald Trump on Thursday, the White House announced on Monday, amid reports that Rosenstein's future in the administration was in doubt.
"At the request of Deputy Attorney General Rod Rosenstein, he and President Trump had an extended conversation to discuss the recent news stories," White House press secretary Sarah Huckabee Sanders said in a statement. "Because the President is at the United Nations General Assembly and has a full schedule with leaders from around the world, they will meet on Thursday when the President returns to Washington, D.C."
News of the meeting comes as multiple outlets reported that Rosenstein was headed to the White House, where he expected to be fired.
Initially, Axios reported Monday morning that Rosenstein "verbally resigned" to White House chief of staff John Kelly. Such a move on Rosenstein's part would give Trump more leeway in appointing Rosenstein's successor at the Justice department.
Shortly after the Axios report, NBC News' Pete Williams reported that the White House pushed the narrative that Rosenstein resigned. Williams also reported that the Justice Department said Rosenstein didn't plan to offer his resignation, and instead will force the White House to fire him.
Now, all eyes will be on Rosenstein and Trump's Thursday meeting — which will take place the same day as the Senate Judiciary Committee hearing on the sexual assault allegations against Supreme Court nominee Brett Kavanaugh.
If Rosenstein is fired, Trump won't have done the firing in person, as he is currently in New York for the United Nations General Assembly.
Rosenstein's possible exit comes after it was reported that he apparently sarcastically suggested that he should secretly record Trump as a means of exposing the chaos engulfing his administration. His leaving could have major implications for the ongoing investigation into Russian meddling in the 2016 election led by Robert Mueller.
On Friday, the New York Times reported that in 2017 Rosenstein proposed wearing a wire to secretly record Trump and discussed enlisting Cabinet members to invoke the 25th Amendment, which would essentially declare the president unfit for office.
Rosenstein challenged the report Friday, saying he feels "there is no basis to invoke the 25th Amendment."
Trump has spent months publicly attacking Rosenstein as part of a broader battle against federal law enforcement over the Russia probe, which he frequently slams as a "witch hunt."
The president's allies have also been critical of Rosenstein, suggesting he was complicit in what they say are abuses of power by members of the Department of Justice and FBI — though some prominent Republicans have previously cautioned the president against firing him.
If Rosenstein is ousted from the administration, it's likely to be regarded as an effort by Trump to hamstring Mueller, the special counsel who has led the Russia probe since the president sacked then-FBI Director James Comey in May 2017.
Trump has been reported on numerous occasion to have weighed firing Rosenstein to tighten his grip on that investigation, which the deputy attorney general has overseen since Attorney General Jeff Sessions recused himself from the matter over his own contacts with Russia shortly after Trump took office.
Trump has spent more than a year ripping Sessions over his recusal and has left the door open to firing him.
"I don't have an attorney general," Trump told the Hill on Wednesday. "It's very sad."
Sept. 24, 2018, 12:54 p.m.: This story has been updated.