Mic Daily: Rod Rosenstein reportedly offered to wear a wire — and other news of the day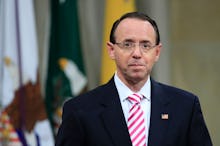 Welcome to Mic Daily: Mic's newsletter that cuts through the noise and lands in your inbox every weekday. We carefully curate each edition to send you a cross section of our most vital stories of the day.
Want more entertainment news in your inbox? Sign up for Hype Daily — Mic's morning entertainment briefing. It's got all the news you need to start your day.
Judge Brett Kavanaugh's delayed Supreme Court confirmation continued to dominate national headlines, particularly amid speculation over whether Christine Blasey Ford, the woman accusing him of an attempted sexual assault more than 30 years ago, plans to testify before the Senate Judiciary Committee.
While Washington's eyes were on the judiciary and President Donald Trump was attacking Ford on Twitter, here are five stories you might have missed this week.
Rod Rosenstein — the deputy attorney general who has overseen the Russia probe since early 2017 — reportedly proposed wearing a wire in 2017 to covertly document the chaos Trump was wreaking on the White House.
Nic Hunt has been driving a taxicab in New York City for more than 30 years. Hunt's best friend, Nicanor Ochisor, died by suicide in March. Friends and family members of Ochisor, who was also a cab driver, believe his suicide was the result of financial pressure due to increased competition for passengers with ride-hailing apps like Uber and Lyft.
"I still have texts in my phone when he text[ed] me. 'Half an hour I couldn't pick up a passenger' or '40 minutes, I couldn't find a passenger,'" Hunt said on Mic Dispatch.
Sexual assault survivors and civil rights organizations are using the hashtag #WhyIDidntReport to remind President Donald Trump the process of reporting assault allegations to authorities often discourages victims from speaking out.
#WhyIDidntReport began trending after Trump speculated Friday on Twitter why Christine Blasey Ford — who has accused Supreme Court nominee Brett Kavanaugh of attempted sexual assault — didn't report the incident to police when it allegedly occurred around 1982.
CBD — a derivative of cannabis — is an increasingly popular natural remedy people swear helps alleviate their chronic pain, anxiety and other ailments. Now, products with the same ingredient are making their way into products for your furry friends.