Christine Blasey Ford accepts request to testify on Brett Kavanaugh's sexual abuse allegations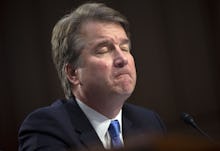 Christine Blasey Ford, the psychology professor who said she was sexually assaulted by Brett Kavanaugh in the early 1980s, will testify before the Senate Judiciary Committee, her attorneys said Saturday.
She will appear before the panel next week.
The announcement came as a deadline to accept the invitation to testify by Sen. Chuck Grassley (R-Iowa), the committee's chairman, neared Saturday afternoon.
Grassley had extended the deadline, which had originally been set for the end of the day on Friday. On Saturday afternoon, Ford's lawyer Debra Katz wrote in a letter to Grassley that while Ford would agree to testify, she still wished to negotiate additional terms for the hearing.
Ford's legal team earlier in the week had called for an FBI investigation, saying in a letter to Grassley that a probe should be the "first step" before she testifies to ensure senators on the committee were fully informed about the allegations.
She also expressed hesitance to appear before the committee this coming Monday because, her lawyers wrote, a number of senators "appear to have made up their minds that she is 'mistaken' and 'mixed up.'"
Ford, a professor at Palo Alto University, alleges that Kavanaugh forced himself on her at a party when they were teenagers and stifled her attempts to call for help.
The accusation, which was first reported last week by the New Yorker and later recounted by Ford herself in the Washington Post, has thrown Kavanaugh's confirmation to the nation's high court into question.
The accusation also recalls allegations of sexual harassment law professor Anita Hill leveled against Clarence Thomas during his Supreme Court confirmation in 1991.
Kavanaugh has denied the allegations.
President Donald Trump, who picked Kavanaugh to replace Anthony Kennedy on the bench, had been uncharacteristically restrained in his comments on the matter for much of the week, but publicly raised questions about her credibility in a controversial tweet posted Friday.
He has also defended Kavanaugh as an "outstanding" person.
Sept. 22, 2018, 3:15 p.m. Eastern: This story has been updated.