Immigrants would be denied visas, green cards for using public benefits under new proposed rule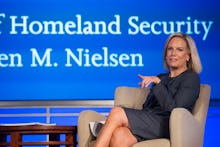 The Trump administration may soon penalize immigrants for taking advantage of public benefits, the Department of Homeland Security announced Saturday.
The proposed rule, which will be published in the Federal Register and then formalized after a 60-day public comment period, expands a "public charge" rule limiting green cards for immigrants dependent on cash benefits to include non-monetary public benefits like health care and food stamps. Taking advantage of public benefits currently or in the past will now be a "heavily weighed negative factor" in immigration applications.
"Under long-standing federal law, those seeking to immigrate to the United States must show they can support themselves financially," Homeland Security Secretary Kirstjen Nielsen said in a statement. "The department takes seriously its responsibility to be transparent in its rule-making and is welcoming public comment on the proposed rule. This proposed rule will implement a law passed by Congress intended to promote immigrant self-sufficiency and protect finite resources by ensuring that they are not likely to become burdens on American taxpayers."
Among the public benefits included in the proposed rule are the Supplemental Nutrition Assistance Program, or food stamps; public housing and housing vouchers; the Medicare Part D Low Income Subsidy, which covers prescription drug costs; and Medicaid with limited exceptions. Under the new rule, immigrants who receive more than $1,821 annually in benefits that can be monetized will be disqualified from receiving green cards and visas.
The proposed rule is more limited than a previous version of the guidelines, which would have included immigrants who use Affordable Care Act health care plans and certain tax credits, among other programs. Nevertheless, the proposed rule is set to have a widespread effect; the New York Times cited government data estimating the new rule will affect 382,000 people each year.
The rule comes on top of other Trump administration policies that have affected the lives of immigrants across the country, including the decision to end the Deferred Action for Childhood Arrivals program, the administration's "travel ban" restricting immigrants and visitors from certain countries and the "zero tolerance" policy that resulted in thousands of immigrant children being separated from their families.
"Building on the traumatic separation of families at the border, the Trump administration has taken another cruel step," Marielena Hincapié, executive director of the National Immigration Law Center, said in a statement. "This proposed rule change will similarly result in the separation of families and is just the latest assault on immigrant families. This is an inhumane attack on the health and well-being of so many families and communities across the country.
"How you contribute to your community — and not what you look like or the contents of your wallet — should be what matters most. This proposed rule does the opposite and makes clear that the Trump administration continues to prioritize money over family unity by ensuring that only the wealthiest can afford to build a future in this country."