This week in politics: Christine Blasey Ford testifies and Trump heads to the UN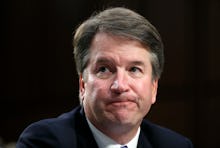 The political world is gearing up for another climactic week, as professor Christine Blasey Ford has agreed to testify Thursday before the Senate Judiciary Committee against U.S. Supreme Court nominee Brett Kavanaugh.
Kavanaugh and Ford's hearing, which will center on Ford's sexual misconduct allegation against Kavanaugh, comes during a busy week for Congress, as lawmakers scramble to pass spending bills to avert a government shutdown.
Meanwhile, President Donald Trump is headed to New York, where he'll be meeting with world leaders and addressing the United Nations during its General Assembly meeting.
Here's what to expect from the political world in the week ahead.
Kavanaugh hearing: The Senate Judiciary Committee and Ford agreed Sunday that Ford will publicly testify at 10 a.m. Thursday about her allegations that Kavanaugh forced himself on her in an "attempted rape" during a high school party.
Ford's legal team noted in a statement quoted by NBC News that aspects of the GOP's offer for Ford's testimony were "fundamentally inconsistent with the committee's promise of a fair, impartial investigation into her allegations;" they added in a later statement Sunday the committee would not be questioning any other witnesses as Ford requested, such as Mark Judge, who was allegedly in the room when the incident allegedly took place. Other "procedural and logistical issues" about the hearing "remain unresolved," Ford's team noted, including whether senators or staff attorneys will do the questioning.
The hearing will take place as activists and women across the country have come out in support of Ford and as Kavanaugh's public support has to plummeted. According to an NBC News/Wall Street Journal poll released Thursday, 38% of Americans oppose Kavanaugh's nomination, marking the first time since the poll began in 2005 that more Americans have opposed a Supreme Court nominee than supported them.
Congressional spending battle: The Kavanaugh hearing won't be the only thing on lawmakers' schedules this week, as Congress fights to pass spending measures before the current budget expires Sept. 30.
The Senate passed a short-term spending bill Tuesday that would fund government agencies through Dec. 7, which will be taken up this week in the House of Representatives. The Washington Post noted it is unclear whether Trump will sign the bill; however, the measure would delay a fight over funding for Trump's border wall between the United States and Mexico, and the president previously said he is willing to shut down the government over his demands for increased border wall funding.
U.N. General Assembly: The U.N. General Assembly will convene this week, and Trump will be a crucial part of the international proceedings during his four-day visit to New York City. He is scheduled to deliver an address to the General Assembly Tuesday, when he's expected to push an "America First" message and highlight Iran as posing a threat to the Middle East and other countries. On Wednesday, Trump will chair for the first time a U.N. Security Council meeting, which will focus on the nonproliferation of nuclear, chemical and biological weapons.
Trump will also meet with a variety of world leaders while in New York, including French President Emmanuel Macron, United Kingdom Prime Minister Theresa May, Israeli Prime Minister Benjamin Netanyahu, Egyptian President Abdel Fattah el-Sisi and Japanese Prime Minister Shinzo Abe. On Monday, Trump will meet with South Korean leader Moon Jae-in, who will deliver a message to Trump from North Korean leader Kim Jong Un. The two are also expected to sign a new version of a trade deal between the U.S. and South Korea.
Social media: U.S. Attorney General Jeff Sessions will convene a meeting of attorneys general Tuesday to discuss social media companies, which comes in the wake of Trump accusing these companies of discriminating against conservative viewpoints. According to Bloomberg, the meeting is intended to help Sessions decide whether there is a federal case to be made against major social media companies — such as Facebook, Twitter and Google parent company Alphabet — for violating consumer protection and antitrust laws.
"The attorney general has convened a meeting with a number of state attorneys general this month to discuss a growing concern that these companies may be hurting competition and intentionally stifling the free exchange of ideas on their platforms," Department of Justice spokesman Devin O'Malley said in a statement, the Guardian reported.
The meeting will consist of a bipartisan group of 24 attorneys general; though originally intended to only include Republican attorneys general, the meeting was expanded after Democrats asked to be included.