Today in Trump's America: Kavanaugh confirmation in doubt as more allegations surface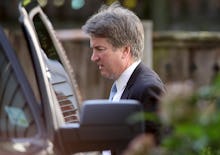 Welcome to Mic's daily read on Donald Trump's America. Want to receive this as a daily email in your inbox? Subscribe here.
Good morning from Emily Singer at Mic.
Here's what's happening in Trump's America:
• Trump is in New York on Monday for a United Nations General Assembly meeting.
About the weekend: Kavanaugh accuser agrees to testify, but more allegations surface
Supreme Court nominee Brett Kavanaugh's confirmation prospects dimmed over the weekend, after a second woman came forward to accuse him of sexual assault when he was an 18-year-old freshman at Yale University. Democrats on the Senate Judiciary Committee are now calling for a delay in the hearings to investigate the woman's claims.
The New Yorker reported the new claims from Deborah Ramirez, who said Kavanaugh "exposed himself at a drunken dormitory party, thrust his penis in her face and caused her to touch it without her consent as she pushed him away."
Kavanaugh has flatly denied the allegations.
Sen. Dianne Feinstein (D-Calif.), ranking member of the Senate Judiciary Committee, said the FBI should investigate the claims from both Ramirez and Christine Blasey Ford, the Palo Alto University professor who first came forward to accuse Kavanaugh of sexual assault.
"We need a fair, independent process that will gather all the facts, interview all the relevant witnesses and ensure the Committee receives a full and impartial report," Feinstein wrote in a letter to Senate Judiciary Chairman Chuck Grassley. "Should the White House continue to refuse to direct the FBI to do its job, the Committee must subpoena all relevant witnesses."
The new allegations came as Ford agreed to testify in an open setting before the Senate Judiciary Committee about her allegations against Kavanaugh. Ford is set to testify Thursday morning, followed by testimony from the judge himself.
Republicans, however, refuse to call other witnesses to testify, including Mark Judge, Kavanaugh's high school friend, who is now conservative activist. Ford alleges Judge was in the room when the sexual assault occurred.
In response to Ford's allegations, Judge said he never saw Kavanaugh "act that way," and he couldn't recall any "rough-housing" with female students. He refused to testify further.
But the New Yorker reported one of Judge's ex-girlfriends from college came forward to say she "can't stand by and watch [Judge] lie," and said that he "told her ashamedly of an incident that involved him and other boys taking turns having sex with a drunk woman" in high school. The ex-girlfriend, Elizabeth Rasor, said Judge didn't name Kavanaugh in the incident. Judge, through a lawyer, denied Rasor's account.
No matter the outcome, Kavanaugh's Supreme Court nomination has become a political nightmare for Republicans, who once saw the Supreme Court vacancy as a slam dunk issue for the party in the upcoming midterms.
Opposition to Kavanaugh amid the electorate continues to grow. Confirming him could spark backlash, rather than raise the GOP's political prospects in November.
Today in Trump's America: Shutdown looms as government funding set to run out
Kavanaugh's confirmation isn't the only drama the Republican-controlled Congress must deal with this week.
The government is set to run out of funding at midnight Sept. 30, giving Congress just four legislative days to come up with a plan or else risk a shutdown.
Congressional Republican leadership wants to avoid a shutdown in the final weeks of midterm election campaigning, which they think could dim their chances at holding on to their House majority even further.
Nevertheless, Trump wants funding for his U.S.-Mexico border wall project, which could threaten a government funding deal and lead to a shutdown.
According to Politico, Republicans want to pass a "continuing resolution" — or a short-term spending bill that funds the government at existing levels through Dec. 7. This would allow Congress to punt the border wall issue until after the midterms.
Yet Trump could veto the legislation if it does not include border wall funding — placing shutdown blame squarely on his shoulders.
Of course, government funding deals have often come down to the wire, with Congress passing a spending bill at the 11th hour to avoid a shutdown. But it's worth keeping your eye on this week.
And the rest...
White House may penalize immigrants who get public assistance: The Trump administration will propose a rule that would limit individuals from receiving green cards if they receive food stamps or even health care subsidies, the Department of Homeland Security announced Saturday.