Hype Daily: Justin Theroux talks about his split with Jennifer Aniston and more entertainment news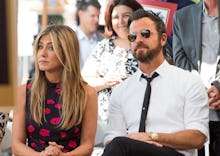 Welcome to Hype Daily, Mic's morning entertainment roundup. Here's everything you need to catch up on in the entertainment world and what to look forward to today. Want to receive this as a daily email in your inbox? Subscribe here.
Good morning readers and welcome to the start of another week. What entertainment news did you miss over the weekend? Let's find out.
Justin Theroux talked to the Times about his split from Jennifer Aniston
In a new interview with the New York Times published Saturday, actor Justin Theroux opened up about his very public split from Jennifer Aniston for the first time since the two announced they were divorcing back in February,
"The good news is that was probably the most — I'm choosing my words really carefully — it was kind of the most gentle separation, in that there was no animosity," he told the Times. "In a weird way, just sort of navigating the inevitable perception of it is the exhausting part."
He added their split was "heartbreaking ... only in the sense that the friendship would not be the same, as far as just the day to day. But the friendship is shifting and changing, you know, so that part is something that we're both very proud of." Hmm, is "gentle separation" the new "conscious uncoupling?"
Here's your box office roundup
The kid-friendly fantasy comedy The House With a Clock in Its Walls, which stars Jack Black and Cate Blanchett, dominated the weekend box office, picking up $26.8 million, Variety reported Sunday. The thriller A Simple Favor, starring Anna Kendrick, Blake Lively and Henry Golding, took second place with $10.4 million in its second weekend.
The numbers were not as good for Michael Moore's Trump-focused documentary Fahrenheit 11/9, which took in just $3.1 million and landed in eighth place. And the ensemble melodrama Life Itself, made just $2.1 million in its opening weekend, paltry compared to the $10 million that Amazon Studios paid for the film.
James Woods was locked out of his Twitter account this weekend
Actor James Woods was locked out of his Twitter account this weekend for tweeting a conservative meme that included a fake campaign telling men not to vote in the midterm elections, the Associated Press reported Sunday. Woods posted the tweet back in July, but his account was just locked. Twitter reportedly said the tweet in question "has the potential to be misleading in a way that could impact an election."
Woods could easily get back into his Twitter account if he deletes the tweet with the fake news in it, the AP reported. But he told the outlet by phone that he won't delete the offending tweet. Brave.
Jamie Foxx and Joseph Gordon-Levitt sign on to a sci-fi movie together
Jamie Foxx and Joseph Gordon-Levitt join the cast of an as-yet-unnamed Netflix sci-fi film, Deadline reported. We don't know any plot details yet, but the film, directed by Henry Joost and Ariel Schulman, is yet another sign Netflix plans to expand its content empire until no genres are left untouched. But a sci-fi movie with Foxx and Gordon-Levitt? I'll probably watch it.
Put this on your radar: Premiere week
September is already winding to a close, and that means more and more shows are coming back. This week is a big one for prime-time staples and brand new premieres. Grey's Anatomy, NCIS, The Good Place, Modern Family, How to Get Away With Murder and Law & Order: SVU are all among the shows returning this week.
And new premieres include NBC's Manifest (you know, the one that seems like Lost), ABC's A Million Little Things and CBS's Murphy Brown revival. Check out a calendar here.