Trump sticks with Kavanaugh, calls sexual assault allegations "totally political"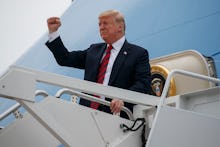 President Donald Trump is not abandoning Supreme Court nominee Brett Kavanaugh, saying the sexual assault allegations Kavanaugh faces are "totally political."
"There's a chance this could be one of the single most unfair, unjust things to happen to a candidate," Trump said Monday, after leaving United Nations Headquarters in New York, which is holding a General Assembly meeting this week.
Trump's comments come after Kavanaugh was hit with new sexual assault allegations from Deborah Ramirez, who says Kavanaugh put his penis in her face against her will at a party at Yale University when Kavanaugh was a freshman.
Ramirez's allegations follow allegations from Palo Alto University professor Christine Blasey Ford, who said Kavanaugh assaulted her at a high school party in the early 1980s.
Kavanaugh has denied both allegations and plans to testify in a Thursday hearing on Capitol Hill to defend his name.
The allegations, however, have cast a dark cloud over Kavanaugh's nomination, and threaten to further erode the GOP's standing among women voters — who polls show are poised to turn against Republicans in the November midterm elections.