Ted Cruz's latest attack on Beto O'Rourke is little more than a racist dog whistle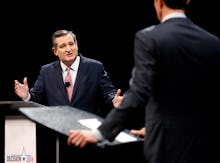 On Friday, Republican U.S. Senator from Texas Ted Cruz tweeted out a bizarre call-out of his rival, Beto O'Rourke, after the Democrat passionately condemned the recent killing of Dallas man Botham Shem Jean by a police officer in his own home.
"In Beto O'Rourke's own words," Cruz tweeted on Friday, alongside a video of O'Rourke giving a speech to an all-black congregation at a Dallas church.
In the clip, O'Rourke fervently denounces the racial climate that precipitated Jean being shot by Amber Guyger, an off-duty police officer, after she mistakenly entered his apartment on Sept. 6 believing it to be her own.
How can it be, in this day and age, in this very year, in this community, that a young man, African-American, in his own apartment, is shot and killed by a police officer? And when we all want justice and the facts and the information to make an informed decision, what is released to the public? That he had a small amount of marijuana in his kitchen. How can that be just in this country? How can we continue to lose the lives of unarmed black men in the United States of America at the hands of white police officers? That is not justice. That is not us. That can and must change.
The clip, which has been shared widely online, does not reflect a partisan opinion. Black men are, in fact, subjected to disproportionate amounts of violence at the hands of police in the United States; this has been backed up by study after study. By highlighting O'Rourke's comments as something to be viewed in a negative light, Cruz appears to be dog-whistling to his Republican base, suggesting that to support black lives in 2018 is grounds to be vilified and smeared.
This isn't the first time Cruz has attempted to push the narrative that his opponent his "anti-police." During an interview with Houston's KRIV on Sept. 15, he said that he wished that "Beto O'Rourke and Democrats weren't so quick to always blame the police officer."
"She may have been in the wrong," Cruz continued, referencing Guyger, "but I don't think we should jump to conclusions."
On Friday, just before sharing the clip of O'Rourke, Cruz tweeted: "Over and over again Congressman O'Rourke — when faced with police and law enforcement — he sides against the police."
Cruz and O'Rourke are currently within striking distance of one another in the race to secure the Texas senate seat that Cruz currently occupies. As the midterm elections draw nearer, racial issues have taken on a more prominent role in both candidate's campaigns: While Cruz has doubled down on his support for law enforcement, O'Rourke has made it clear that social justice issues, like marijuana legalization and police brutality, are linchpins of his platform.