Robert Mueller's Russia investigation hangs in the balance amid Rod Rosenstein's possible exit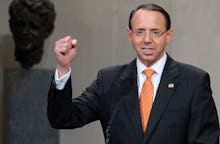 The future of special counsel Robert Mueller's investigation into Russian meddling in the 2016 election may be in limbo, as the future of Deputy Attorney General Rod Rosenstein role at the Justice Department is in doubt.
Rosenstein currently oversees Mueller's Russia investigation, as a result of Attorney General Jeff Sessions recusing himself from the overseeing the probe in 2017. Unlike Trump, who frequently bashes Mueller's investigation, Rosenstein fully supported Mueller's ongoing probe. With Rosenstein possibly out of the way, Trump is freer to meddle in Muller's investigation.
As of early Monday afternoon, it was still unclear whether Rosenstein would be fired, resign or remain in his position. If he resigns, Trump has more leeway in choosing Rosenstein's successor — giving him the option of installing a loyalist who could hamstring, or even end, Mueller's probe altogether.
If Rosenstein is fired, current Solicitor General Noel Francisco would step in to oversee Mueller's investigation, per succession rules. Francisco, a former clerk to Supreme Court Justice Antonin Scalia, has argued against appointing special counsels to investigate White House scandals. Mother Jones reported that in 2007, Francisco said before a House committee:
I don't think it would be appropriate for the Department of Justice to appoint ... [a special counsel because] my own personal belief is that when you hand these issues off to the career prosecutors in the public integrity sections in the US attorneys' offices in the Department of Justice, those attorneys are generally better able to assess whether a case should be pursued.
The uncertainty over Mueller's future comes as he's pierced Trump's innermost circle, winning a cooperation agreement from former Trump campaign chairman Paul Manafort, who was at the infamous Trump Tower meeting in which the Russians offered "dirt" on Hillary Clinton.
If Mueller is fired, or if his investigation is hampered, Republicans will likely shoulder a chunk of the blame. This is because GOP congressional leaders, including Senate Majority Leader Mitch McConnell and House Speaker Paul Ryan, have rebuffed efforts by both Democrats and some Republican lawmakers to pass legislation to protect Mueller's probe.
"We'll not be having this on the floor of the Senate," McConnell said in April, after the Senate Judiciary Committee advanced a bill to protect Mueller out of committee.
The reason Republicans gave at the time for not holding a vote on the bill to protect Mueller was that firing Mueller would be so risky for Trump that he'd never actually follow through.
"I think it would be a mistake to fire him so I don't think his job is in jeopardy," Senate Majority Whip John Cornyn told CNN's Manu Raju in April.
"The Senate must step up to protect the special counsel immediately," Sen. Kirsten Gillibrand (D-N.Y.) tweeted Monday. "We must pass the bipartisan bill to protect the Mueller investigation. The American people deserve answers about Russian interference in our democracy."