These female rappers don't want to be defined by industry sexism. They're setting their own rules.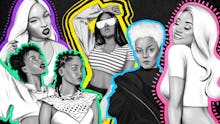 On a July afternoon, Brooklyn, New York, rapper Latasha Alcindor took the stage at Brooklyn Hip-Hop Festival with a crew of 20 hype-women. While front and center, the only woman on the festival's bill made an emphatic proclamation: "I came here today to spit some truth, tell some stories and remind you how important women are for hip-hop." Alcindor delivered an autobiographical set, featuring songs from her 2011 album The L.A. Riots: Mental Fatality and her 2017 mixtape Teen Nite at Empire that detail her journey from teen Flatbush poet to indie artist prioritizing authenticity.
A few weeks later in September, I watched fans of Houston rapper Megan Thee Stallion crowd the intimate Queens, New York, venue Holo and point their fingers toward the ceiling as they passionately rapped word-for-word to her lustful track "Big Ole Freak," off of Megan's 2018 mixtape, Tina Snow.
These two women are part of an exciting wave of female millennial and Generation Z rappers who are charting their own rules in a new era of rap. I spoke to five acts — the pensive Alcindor, slick-talking Megan Thee Stallion, rebellious Quay Dash, lavish Saweetie and mystic Oshun — about how they're defining themselves. They and others — like the fantastical Tierra Whack, the poetic Noname and the sugar-trap queen Rico Nasty — possess the array of skills that women have always brought to hip-hop. But women don't always receive the props they deserve within the genre; it's the kind of sexism that dates back to the genre's start, but has remained a problem, even in the past decade.
Back in 2007, Billboard ran a story called "Female hip-hop fights a bad rap," explaining why labels saw female artists as less worthy of an investment. In the report, industry insiders listed factors such as plummeting album sales; lyrics focused on tried-and-true rap tropes like money and fame; their inability to establish their own identity apart from associations with male rappers or cliques; and high-maintenance needs that generally made women more expensive to work with. (Jezebel debunked the sexist claim that women are more expensive than men in March.)
In Ava DuVernay's 2010 BET documentary My Mic Sounds Nice: A Truth About Women and Hip Hop, veteran hip-hop journalist Smokey Fontaine points out that, from the 1990s into the 2000s, the number of women signed to labels dropped from an estimated 35 to 40, to 10 or 12. By the late 2000s, Nicki Minaj was the sole female emcee rising to mainstream prominence. Meanwhile, as the doc lays out, rappers like Tiye Phoenix and Jean Grae continued to make music as independent artists. Fast-forward to July 2017, and Pitchfork found only four female rappers were signed to 15 "rap-focused labels."
But in the past year, there's been an uptick of female rappers signed, including, of course, rap princess Cardi B. At least 26 female rappers are on the rosters at 11 U.S. labels, Mic tallied. Atlantic has eight signed, the most of the labels examined. But independent of the major labels, there are rappers such as Megan Thee Stallion who are making a name for themselves on their own terms, thanks to modern technology.
Social media has helped launch many artists' careers, allowing them to build communities of devoted fans via viral covers and freestyles. It's been especially helpful to female artists, like Cardi B, who are sidestepping the idea that co-signs from an established male artist or crew are necessary for them to be ushered into the spotlight. (That said, getting a major co-sign is still undeniably helpful, as seen with City Girls' bump in recognition after Drake featured them on his inescapable summer anthem "In My Feelings.")
At the same time, technology has also created new obstacles in the path toward equal exposure for female musicians. For instance, Spotify's most popular curated playlists — including the hip-hop-focused Rap Caviar — are male-dominated, the Baffler reported. A listening experiment found that Spotify's algorithmic playlist Discover Weekly "reproduces gender bias."
Old, tired problems still persist. The two most popular female rappers have been pitted against each other and are feeding into a beef where more jabs have been taken on social media than over rap beats. Music festivals generally still aren't booking female rappers as much as men, Vibe reported in 2017. Trans women and nonbinary rappers remain invisible. The legacies of OGs like Lauryn Hill and Missy Elliott face erasure.
But marginalization is only part of the story. "Defining ourselves solely by our oppression denies us the very magic of who we are," Joan Morgan wrote in her 1999 book When Chickenheads Come Home to Roost: A Hip-Hop Feminist Breaks It Down. "My feminism simply refuses to give sexism or racism that much power."
Here are five female rap acts who embody that thinking discussing their work and how they're making it in today's hip-hop climate.
Latasha
Hometown: Brooklyn, New York
Song You Need to Know: "Revoke Thee" (2017)
Label: Independent
Releases: The Presentation mixtape (2011), The L.A. Riots: Mental Fatality (2011), Spark EP (2014), Loosies & Blunts (2015), B(LA)K, Teen Nite at Empire mixtape (2017)
On the 2017 mixtape Teen Nite at Empire, a concept record named after a now-shuttered Brooklyn skating rink, you'll find sounds tied to Latasha's Big Apple origins. The cheeky self-love anthem "Glo Up" samples Lumidee's 2003 dancehall hit "Uh Oh," which invokes booming basement parties. "Practice on the Q Train," meanwhile, transports listeners to the train tunnels Latasha rode through Flatbush, looping in recordings of subway preachers delivering fiery sermons.
The 13-track mixtape is a testament to Latasha's dedication to documenting the highs and lows that come with hustling as a millennial city woman — particularly one who's trying to make it as a full-time artist while rejecting standards set out by hip-hop's gatekeepers. "If you decide to be a woman in hip-hop, I'll commend you 'cause the shit is difficult," Latasha said over the phone. "But she has to figure herself out and be very strong and be very mindful of their vision in order to surpass a lot of the drama within the space, you know?"
Latasha knows this from experiencing trauma in the year following the release of her debut album, The L.A. Riots: Mental Fatality. She faced cyber-bullying about her weight, "angry black women" critiques, fell into depression and contemplated suicide. A second chance came after a notable poet, whom she won't name, heard her 2014 track "Bee Em (Black Magic)" and gifted her with $10,000 to reboot her life and career.
Moving forward, she's setting her own rules as a "form-free" artist, recording, creating visual and performance art and building a platform to empower other artists. "The goal is to help artists learn how to be sustainable and give artists the gear and the tools to feel like they can have choices again," she said. "I feel like that's something that we lost because of the new model of music."
Megan Thee Stallion
Hometown: Houston
Song You Need to Know: "Stalli Freestyle" (2017)
Label: 1501 Certified Entertainment
Releases: Make It Hot EP (2017), Tina Snow EP (2018)
Megan Thee Stallion has a penchant for roasting her naysayers on hasty, bass-trembling beats. It's a quality that's helped her build buzz over the past two years via viral freestyles like "Stalli Freestyle," and sign a deal with 1501, an independent label owned by retired baseball player Carl Crawford. Take "Hot Girl" — from her Tina Snow EP, named after her alter ego — as a primer on her ability to own any space she pleases.
"They still tryna find a thang that I can't do," she raps. "I told her, 'If you go against me, you a damn fool!' (bitch you dumb)/ But keep talking 'bout me, bitch, that's all you can do (oh, OK!)/ But keep my cat up out ya mouth, cause that's ya man's food."
The 23-year-old, who counts the late rappers Biggie Smalls and Pimp C as influences, takes delight in slinging sexual raps and scoring clever jabs on her foes. It's an approach that was mastered by Lil Kim, Trina and others before her. Yet even with that lane paved, there is still an antiquated idea that women rappers must fit into an "intelligent" or "freak" dichotomy, something she doesn't feel is her problem.
"I feel like female rappers are held to a standard," Stallion said over the phone. "Like, you can only rap about peace and 'Kumbaya' and you're supposed to be such a lady. ... I'm not scared to say what's on my mind. I'm not scared to say what I want to do. If the boys can do it, we can do it too."
Megan is also confident about her value in this business. She's received calls from major labels, but won't consider signing a deal until the numbers make sense. "Why would I take less than I'm already getting [with an independent label]?" she asked. She said she wants a career with longevity, so every money move must be well-calculated.
"I'm not playing the trendy game," Megan added. "I don't want to be poppin' this year and not poppin' next year."
Oshun
Hometown: Washington, D.C.
Song You Need to Know: "Blessings on Blessings" (2018)
Label: Independent
Releases: Afahye EP (2014), Asase Yaa (2015), Bittersweet Vol. 1 (2018)
Thirty seconds into the warp-y "Blessings on Blessings," Niambi Sala, one half of the rapping-singing duo Oshun, praises the Yoruba goddess of beauty, love, fertility, wealth and abundance, for which the act is named after.
"I'm in my god body, nigga do the math, and I/ I take a bath in the water I/ Know I am the daughter of the river, of the moon/ Blessed by Oshun, ayy," she proclaims.
On the same track, the other half of Oshun, Thandiwe, boasts that she's immune to death. "On my birthday I died, but I came back from the dead/ Four-pound baby, hella tubes inside my head/ Told 'em nah, I'm here to stay/ And the world I'm here to save." The African deity's nature is the core foundation of their music, Sala explained.
"[We're] walking with intention and holding space for it and letting those principles shine onto all the people that we come in contact with," Sala said on the phone.
The D.C. natives — who have been channeling their blend of neo-soul and hip-hop since 2013 — met during their freshman year at New York University. By 2014, they were performing on the subway twice a week. They also performed at an underground rap space in Brooklyn called Rap School, which was instrumental in them honing their craft.
"We were like the freshman girls of [Rap School]," Sala said. Thandiwe added, "We got a lot of support from the Rap School community and I think that helped expand our reach and network within Brooklyn in general."
The duo credits their "Stuck" music video for elevating their influence from local to international. (Since premiering on Okayplayer in 2014, the visual has racked up 1 million views.) Five years in, the duo has made strides independently and challenge the aforementioned idea that co-signs from male contemporaries are still necessary for women to elevate themselves in the rap ecosystem.
"I think it's arguable," Thandiwe said. "I think that in a lot of contexts, it makes sense. With what Niambi and I are doing, our whole brand is to demand respect and to remind people that women are the creators of this whole shit. We can't even entertain that. We are just going to make sure that we inspire everybody to know that women are divine."
Quay Dash
Hometown: Bronx, New York
Song You Need to Know: "Decline Him" (2016)
Label: Independent
Releases: Transphobic EP (2016), Satan's Angel mixtape (2017)
New York rapper Quay Dash's street-smart and sumptuous lyrics on her latest single, "U.A.F.W.M.," aren't metaphors for performative toughness. (The title's an acronym meaning "U Ain't Fuckin With Me," by the way.) The lyrics are cathartic stories based on her real-life experiences — and it makes her one of the realest rising rappers out there at the moment. "Got my own crib on lock/ Used to work nights on the block/ Now I'm on top/ Middle fingers up to the cops/ Got your man all on my cock," she raps defiantly over the track's hardcore electro-bass.
The song is a follow-up to her 2017 mixtape, Satan's Angel, and the 2016 EP Transphobic, both of which illustrate her life as a black trans woman in New York. "It's about me going through the things that I'm going through, whether I was in a relationship, whether it's about making money, whether it's about doing shows," Dash shared in a phone interview. "All of that. It's that whole feel."
When asked about her specific experiences as a trans woman in the music industry, she chose not to go too deep. "It triggers me all the time to even, like, talk about it," she said. "It's definitely, in a sense, in full effect. And it always has been. It always will be."
Dash came up as part of a Brooklyn-based queer artist collective called Cunt Mafia. In 2014, she put out "Ain't Gon' Stop It" and "BKLYN" through her SoundCloud and posted an accompanying music video on YouTube. Over the past four years, she's used those platforms to promote her music. Even though the internet has played a crucial role in her reaching new ears, she doesn't think those sites alone provide her the same opportunities to be discovered as they do for her cis male peers.
"When you go into YouTube, or whatever like that, you're going to see a bunch of what's going on now and a lot of mainstream shit," Dash said. "You're not gonna see me in the front of something like that. You're going to see maybe some hot male rapper. You're not going to really see anything sort of diverse unless you look for it."
Saweetie
Hometown: Santa Clara, California
Song You Need to Know: "Icy Grl" (2017)
Label: Warner Brothers
Releases: High Maintenance EP (2018)
Saweetie's "Icy Grl" revives the beat of Khia's 2002 sex-positive cult classic "My Neck, My Back." The track got a major push in August when Issa Rae — who calls Saweetie one of her go-to artists when she's bumping music in her car — featured the track on Insecure's season three soundtrack. On it, the 25-year-old runs down the terms and conditions for locking in her time. "Charging by the minute 'cause my time is very pricey/ Yeah, I be where the bosses be/ Judging from my vibe, you can feel it in my energy."
Saweetie's money-over-everything mentality is influenced by her grandmother, the owner of a real estate company. "Seeing her handle business and be a woman, it was inspiring and I was hoping to become that one day," Saweetie said in a phone interview.
With few connections in the industry, Saweetie got her start recording freestyles to beats of popular rap songs and posting them on Instagram and Twitter. Some Instagram entertainers took a liking to her stuff — the comedic sensation Denzel Dion reposted her track "Icy Grl," for instance — and that upped her reach. Still, networking in a male-dominated industry is an obstacle. "[Men] do have the resources as producers or [may be] someone who may have what you need," she said. "But there's that underlying trade off that they're hinting at. And I'm just not about that life."
While working as a brand ambassador at a Fenty Puma event in April 2017, Saweetie met her current manager, Max Gousse, who checked out her music and liked what he heard. Things moved quickly: She released her High Maintenance EP in March, played South by Southwest, Rolling Loud and Made in America, and now she's recording her debut album, slated for 2019. Her new single is coming out the end of November.
One thing is for certain: Women will be at the center of her forthcoming raps. "The listener who I am thinking about," she said, "is women who can relate to what I've been through."