Airlines may soon be legally required to add more legroom and increase seat sizes on airplanes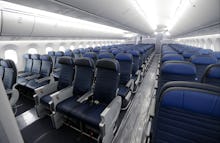 The days of little legroom and cramped seating on airplanes might soon be over, if a recently introduced bill makes its way through the House and Senate.
Congress is considering legislation that could impact air travel forever by requiring the Federal Aviation Administration to set minimum standards for seat width and legroom, the Associated Press reported Saturday. The bill would also prohibit involuntary bumping of passengers who have already boarded their flights.
"Relief could soon be on the way for weary airline passengers facing smaller and smaller seats," Sen. Bill Nelson (D-Fla.) said in a statement.
The bill would mean a number of other significant changes for airline travel, including a minimum of 10-hour rest periods between work shifts for flight attendants, a minimum size and number of airplane lavatories, new standards for service animals and a mandate that large airports provide nursing rooms for new mothers, according to USA Today.
Some new standards could benefit many passengers — especially those in bigger bodies.
"Being a fat traveler, it is especially difficult to travel alone and have to request an extender," Mic contributor Amanda McCullough previously wrote. She continued:
If you do request an extender, every flight has a different protocol. If you ask a flight attendant for an extender as you're boarding the plane, you'll spend the duration of the boarding process praying that they remember to bring it (sometimes they forget). If they do remember to bring the extender, will they do so before your seatmates shuffle in? When the flight attendant does come over, they will have to pass you the extender, usually over the heads of two curious strangers who want to know about the special freebie they're not getting.
Seats get smaller as passengers get bigger
The average seat pitch, or amount of legroom, on airplanes has shrunk an average of four inches since the 1970s — from 35 inches to just 31 inches. In May 2017, American Airlines announced a plan to shrink seat pitch below 30 inches on some of its aircrafts — but quickly reversed course after facing criticism from customers and consumer groups. (Still, some discount airlines like Frontier and Spirit have as little as 28 inches of legroom between seats).
The shrinking of both seat width and legroom presents a problem for the American population. One-third of all Americans are obese; the average American man weighed 166.3 pounds in the early 1960s, compared to 195.5 pounds in 2015. Similarly, the average woman weighed 166.2 pounds in 2015, up from 140 pounds in 1960.
Many aircraft carriers, like Alaska Airlines and American Airlines, require obese passengers to purchase a second seat if they are unable to meet particular size requirements. "If a customer's body extends more than 1 inch beyond the outermost edge of the armrest and a seat belt extension is needed, another seat is required," American Airlines' website reads.
Airlines profit from tiny seats
A judge in 2017 ordered the FAA to address the case of the "incredible shrinking airline seat" after the passenger rights group FlyersRights.org filed a petition asking the FAA to establish minimum seat pitch requirements for U.S. airlines, MarketWatch reported. The agency declined to do so, disputing the petition's claim that seat shrinkage poses a danger to consumer safety.
"While your petition asserts that seat width and pitch, in conjunction with passenger size, raise a safety concern, the FAA has no evidence that there is an immediate safety issue necessitating rule-making at this time," the FAA wrote in a letter to FlyersRights.org, as quoted by the Hill.
Despite complaints of safety and comfort, airlines benefit from the tight squeeze. According to the Wall Street Journal, the average round-trip ticket on the seven largest U.S. airlines cost $355 in 2017 — and an extra row of seats can mean the difference between a profit or a loss for the flight.
The proposed regulations, which will be taken up by Congress in the coming days, are part of a larger funding bill for FAA programs. Congress has until Sunday to act on the bill and keep FAA programs running; otherwise, both the House and Senate will need to grant a short-term extension, according to USA Today.
Sen. John Thune (R-S.D.) told the AP he expects the bill to quickly pass through Congress, though the regulations could encounter problems once it arrives on the president's desk. As part of President Donald Trump's deregulation initiative, the U.S. Department of Transportation temporarily froze all industry regulations, including rules regarding tarmac delays and flight cancellations, in 2017, the Los Angeles Times reported.
Meanwhile, 2017 was the second most-profitable year for airlines, and a study released Tuesday found that while ticket fares may "dip and climb," fees for things like checked baggage and flight changes are becoming even bigger sources of revenue.
Correction: Oct. 1, 2018