Women advocates to recreate 1991 Anita Hill 'New York Times' ad — but with 1,600 men's names instead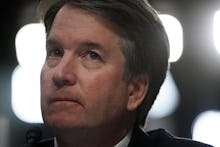 In November 1991, black scholars Barbara Ransby, Deborah King and Elsa Barkley Brown organized 1,600 black women to purchase an ad in the New York Times and seven other newspapers.
The full-page layout, titled "African American Women in Defense of Ourselves" and featuring the names of all 1,600 women, was an effort to support Anita Hill, who in October of that year had testified before the Senate Judiciary Committee that then-Supreme Court nominee Clarence Thomas had sexually harassed her.
Thomas was eventually confirmed to the court — while Hill faced intense backlash for speaking up, including from senators who dismissed her claims and accused her alternately of lying and having "erotomania," or excessive sexual desire.
Now, amid Christine Blasey Ford's allegations that Supreme Court nominee Brett Kavanaugh sexually assaulted her when the two were in high school in Maryland in 1982, two women are trying to organize a reboot of the 1991 newspaper campaign.
Only this time, the signees will all be men.
"I had been very inspired by the story of the 1,600 black women who came together in 1991 to take out a full-page ad in the New York Times," Meena Harris, founder of the Phenomenal Women Action Campaign, a benefit fund for women-focused nonprofits and co-organizer of the ad reboot, said in a phone interview. People "need to follow that lead," Harris said.
Harris and Alicia Garza, co-founder of the Black Lives Matter Global Network, launched the initiative Friday with the goal of raising $100,000 to buy an ad in the Times. By Sunday, they had surpassed their fundraising goal, Harris said. By Tuesday afternoon, the campaign's Mighty Cause page had raised more than $132,000.
All funds raised beyond the amount needed for the ad purchase will go to Futures Without Violence, a health and social justice organization working to end violence against women and children, Harris said. The idea to mobilize male allies first came to Harris after men on the board of Futures Without Violence released a statement in support of Ford on Sept. 18.
The original 1991 ad was a response to how Hill was treated during the Senate confirmation hearings.
"The malicious defamation of Professor Hill insulted all women of African descent and sent a dangerous message to any woman who might contemplate a sexual harassment complaint," the women's statement that accompanied the ad read.
"There were people who said, 'How dare you tear down this black man who had the chance to be one of the most powerful men in the country on the Supreme Court?'" Harris said of the Hill hearings. "And these women said, 'No, we are going to stand up and defend Anita and defend ourselves,' and that was incredibly courageous."
Yet more than a quarter-century later, advocates say history is repeating itself. Despite receiving death threats for coming forward and tweets from President Donald Trump claiming the alleged attack probably wasn't that bad, Ford will testify before the Senate Judiciary Committee on Thursday about her allegations, as will Kavanaugh.
On Sunday, the New Yorker reported that Senate Democrats are investigating a second sexual misconduct allegation against Kavanaugh. Deborah Ramirez, a former Yale University schoolmate of Kavanaugh's, alleges that Kavanaugh drunkenly shoved his penis in her face during a college party in the early 1980s.
Harris said she is in talks with the Times regarding when the potential ad, titled "Men for Anita Hill and Christine Basley Ford," might run. She and Garza are still collecting signatures and vetting those they've received so far. If they surpass 1,600 signatures, the additional names will be published digitally.
"We're talking to the New York Times about what possibilities we might have in order to accomplish that," Harris said. "We've asked men to step up [and sign], so it's not only the burden of women to do this."